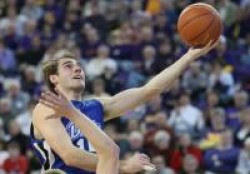 Adam Emmenecker has a 3.97 GPA and leads the Missouri Valley Conference in assists.
Drake University senior guard Adam Emmenecker and senior forward Troy Ruths of Washington University (Mo.) head the 2008 ESPN the Magazine Academic All-America® Men's Basketball Teams, as selected by the College Sports Information Directors of America.
Emmenecker was named the Academic All-American® of the Year for the University Division, while Ruths received the same honor for the College Division for the second consecutive year.
"This is a tremendous honor," said Emmenecker, a native of Saginaw, Mich. "A lot of people don't get the opportunity to be in a position to combine academics and athletics and Drake has allowed me to do both successfully. This award is a testament to the accomplishments we have achieved on and off the court this season."
Emmenecker owns a 3.97 grade-point average in management, business, finance and entrepreneurial management. He has led nationally ranked Drake to a 24-3 record and its first Missouri Valley Conference title since 1971. The Bulldogs' 24 wins are two away from the school record set by the 1968-69 squad (26-5) that advanced to the NCAA Final Four.
Emmenecker is a two-time MVC Scholar-Athlete of the Week selection (Jan. 9, Jan. 22) and also earned MVC Player of the Week honors Jan. 21.
He was joined on the the 2008 ESPN the Magazine Academic All-America® First Team by D.J. Augustin (Texas), Justin Hare (Belmont), Jack Leasure (Coastal Carolina) and Brett Winkelman (North Dakota State). Hare, Leasure and Winkelman all earned second team accolades in 2007. In addition, A.J. Graves (Butler University), Joe Reitz and Mike Schachtner (Wisconsin-Green Bay) are repeat members from the 2007 squad.
Drake catches the attention of SportsIllustrated.com
Sports Illustrated columnist Seth Davis posted a column on the magazine's Web site Tuesday headlined "Once left for the cellar, Drake's on top."
Davis, who noted that he's no relation to any of Drake's three coaches named Davis — Keno, Chris and Rodell, declared that "Of all the surprises during the 2007-08 college basketball season, the one that has to rank at the top of the list is this: It's cool to be Drake." The column is available online.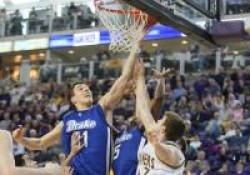 Jonathan Cox scored 17 points and grabbed eight rebounds.
Missouri State holds off Drake, 86-83
SPRINGFIELD, MO. — When the Missouri Valley Conference basketball schedule was released last August, Drake knew there would be challenges.
In particular during the month of February with just two home games and five road games including the final contest played at the 32-year old John Q. Hammons Student Center — home of Missouri State.
So on an emotional Tuesday night, in which five seniors played their final home game, the host Bears shot a sizzling 59.6 percent from the floor to hold off 20th ranked Drake, 86-83.
The Bulldogs, who slipped to 24-4 overall, used a barrage of three-point baskets down the stretch giving them an opportunity to win the game.
But Missouri State made just enough free throws down the stretch to hold off the charging Bulldogs who will close out the home season entertaining Wichita State in a 1:05 p.m. tip-off Saturday at the Drake Knapp Center. The game, which is sold out, will be televised on ESPN2.
Since earning a 65-55 victory at Northern Iowa Feb. 16 to capture its first MVC title since 1971, the Bulldogs have dropped their last two conference games, including a 72-71 home setback to Bradley last Wednesday.
Sophomore guard Josh Young paced a balanced Drake attack, in which all five starters reached double figures, with 18 points including four three-point baskets.
Senior guard Leonard Houston and junior forward Jonathan Cox added 17 points apiece. Senior forward Klayton Korver, playing in his school-record 117th career game, collected 16 points, including four treys. Senior guard Adam Emmenecker scored 10 points while collecting seven assists and four steals.
Drake's pressure defense rattled Missouri State forcing the Bears into 19 turnovers. Drake had nine steals with a career tying four by Houston and three by Korver. Drake scored 21 points off Missouri State miscues.
Behind six three-point baskets, Drake went on a 29-15 run to pull within 81-79 with 50.3 seconds remaining. Korver scored 10 points to trigger the outburst including the last four points in the surge coming on a layup and two free throws.
The Bulldogs threatened to pull even during the comeback when Houston made a steal and layup that trimmed the margin to 77-73 with 2:18 left. Missouri State's Deven Mitchell
Mitchell was called for an intentional foul, but Houston missed both free throws. Drake retained possession but Young failed to connect on a three-point basket from the right wing.
Missouri State extended the lead to 83-79 following a layup by guard Justin Fuehmeyer but a layup by Emmenecker allowed Drake to trim the deficit back to two points at 83-81. After two free throws by Mitchelll upped the Bears' advantage to 85-81, Emmenecker would answer with another layup with 33 seconds remaining.
Forced to foul, Drake sent Missouri State to the free throw line. Fuehmeyer made one of two free throws to increase Missouri State's lead to 86-83 with 26.2 seconds. But Korver missed a three-point baskets and then Emmenecker had a three-point shot fall short with 3.2 seconds left.
Missouri State built a 13-point lead in the first half. but Drake gradually cut the lead to 38-36 at halftime. Following a Missouri State time out with 3.1 seconds left in the half, Korver intercepted a pass at midcourt tipping it to Emmenecker who fed Houston who banked in a 35 foot shot at the buzzer.
Baskets by Houston and Young allowed Drake to tie the score at 40-40 with 18:55 left in the game but the Bears responded with a 9-0 run, including back to back three-point baskets by Dale Lambreth.
Cox grabbed a team-high eight rebounds, while Houston and junior reserve forward Brent Heemskerk collected four apiece.
Korver moved into No. 14 on the Drake career scoring list with 1,070 points, surpassing Lonnie Randolph (2001-05, 1,063), Napoleon Gaither (1975-78, 1,071) and John Rennicke (1947-51, 1,076) along the way.
Emmenecker moved a step closer to the school single-season assist record with 169, needing just six to surpass the record of 174 by Al Stewart last season.