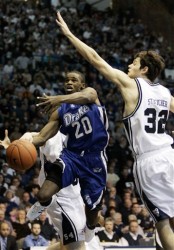 Josh Young puts up a shot against Butler's Drew Streicher during the first half. (AP Photo/Darron Cummings)
INDIANAPOLIS, IND. — Drake strengthened its claim on an NCAA Tournament berth Saturday with a 71-64 victory over No. 8 Butler in the O'Reilly ESPNU BracketBusters series. Sophomore guard Josh Young's career-high 25 points, including three clinching free throws with 20 seconds to go, lifted 16th-ranked Drake to its first victory over a top-10 team in more than a quarter century.
The contest, televised nationally on ESPN2, lived up to its billing as the top game ever played in the short six-year history of the BracketBusters series.
A sellout crowd of 10,000 in historic Hinkle Fieldhouse saw the nation's top two mid-major programs battle on even terms. The game featured 15 lead changes, and the score was tied 10 times.
A 9-0 run in the second half by Drake (24-3) proved decisive in snapping Butler's nine-game winning streak. The surge, which vaulted Drake to a 63-58 lead, came after two free throws by Matt Howard gave Butler (25-3) a 58-54 advantage with 8:11 left in the game. Drake held Butler, of the Horizon League, to one basket in the last 8 minutes 18 seconds.
Senior guard Adam Emmenecker started the comeback by hitting two free throws with 7:19 left to pull Drake within 58-56.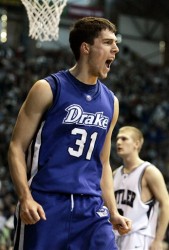 Jonathan Cox can feel that an NCAA Tournament berth is in Drake's immediate future. (AP Photo/Darron Cummings)
A tip-in by forward Jonathan Cox tied the game a 58-58 and then Klayton Korver nailed a three-point basket at the top of the key with 5:33 remaining to give Drake a 61-58 advantage.
Emmenecker then came up with a steal and fed Young for a layup to extend the lead to 63-58.
Two free throws by A.J. Graves pulled Butler within 64-62 before Young was fouled beyond the three-point arc with 20 seconds left.
"I knew that the shot clock was running down and they did a good job getting me the ball so I thought I'd just put it up there and see what happens,' said Young, whose previous high was 24 points. "I ended up getting fouled and was able to get to the line and knock down the free throws."
Young, who was closely guarded by Butler's Mike Green, didn't realize he was behind the three-point arc when he went up for the shot.
"I was so focused on getting the shot up before the shot clock went off, I didn't have the presence of mind where I was," he said.
"More than anything, it provides a big boost of confidence for our team going into the end of the season and post-season play," Young said.
"It was a good call," Green said. "I did get a piece of him. … He was taking a dribble and then pulled up. So when my hand was in, he leaned forward. It was a good play by him and a good call by the officials."
Graves, who led Butler with 18 points, added two more free throws before a fast-break layup by Leonard Houston and two more free throws by Korver with just over a second remaining.
Drake has already clinched the Missouri Valley Conference regular-season championship.
"Especially at the end of the season, games always take on more importance, whether you're trying to get into the NCAA tournament or for seeding in your conference tournament or if you're already in you're looking for seeding in the NCAA," first-year Drake coach Keno Davis said. "We haven't talked a whole lot about end-of-season goals. … We just want to try to get better by the time our conference tournament starts. There's no better test than coming into this environment."
Houston finished with 16 points, while Cox enjoyed his tenth double-double with 11 points and 11 rebounds for Drake.
"Both teams executed well and got good looks," Butler coach Brad Stevens said. "They made plays down the stretch that separated the game.
"We're up four and then, bang, a 9-0 run. Up four is nothing on these guys," he said.
A three-point basket by Young gave Drake its biggest lead of the game at 41-35 with 18:42 left in the game.
The ESPN BracketBuster matchup between the two mid-majors marked the first time they met since 1972. Butler leads the overall series 4-3.
Drake led most of the first half as Butler missed nine of its first 10 three-point attempts. Cox hit three straight layups, and Drake took several leads of four points before Butler started hitting from the outside.
Butler hit eight straight shots from the field, including two three-pointers by Pete Campbell and another trey by Graves for a 34-31 lead in the final minutes of the opening half.
Cox then scored again, and after Howard hit one of two free throws by Butler, Drake scored the final five points of the half on free throws — three by Young and two by Cox — for a 38-35 lead.
Drake outrebounded Butler, 34-27, with Houston tying a career high for the second straight game by collecting seven rebounds.
Emmenecker dished out seven assists to move into second place on the school single-season assists list at 162, surpassing Terry Benka who had 156 in 1976-77. He also collected six rebounds.
Young finished with three treys to move into seventh place on the school career three-point chart at 130.
Drake improved its record on the road to a school-record 10-2 mark.
Drake will resume MVC action playing at Missouri State Tuesday.