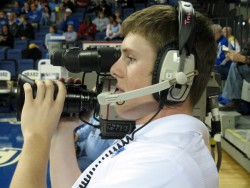 First-year journalism student Chris Hansen shoots game footage from floor.
Drake men's basketball spotlights behind-the-scenes
scoreboard crew
Drake University's student-run scoreboard crew is on a
winning streak, too, this season providing fans with exciting game footage,
up-to-date graphics and online video streaming of the nation's 15th ranked
men's basketball team.
"We feel like we are part of the team," said David
Wright, GR'89, associate dean and associate professor of journalism. "We bleed
blue in the crew."
The collaborative effort between athletics and the School of
Journalism and Mass Communication was born at the beginning of the 2006
football season. Since then the project has grown immensely with the
installation of new video scoreboards in the Drake Knapp Center in January
2006.
"Our workload has increased dramatically. It's pretty
extensive," Wright added. "Our crew has grown from three to six
students for every game."
The crew has worked all men's and women's home basketball
games this season, as well as football, soccer, volleyball and track events.
Students execute the plans, produce game footage, replays,
crowd shots for the scoreboards and concession stand screens, as well as video
streaming for the Drake Athletics Web site.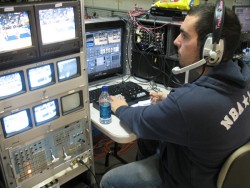 Student director Eric Michel manages video feed from four cameras, video playbacks, streaming video and communicates with members of the scoreboard crew.
"We are having record numbers of people watching us on
the Internet this year as well," said the crew's student director Eric
Michel, a senior from Chicago. "You definitely approach the games
differently knowing that several thousand are watching you here, and hundreds
more all over the country, but that makes it all the more exciting."
Wright said the biggest surprise is how many people,
including professional production crews, come up and say, "You look as
good as anything out there we see in sports production."
As the overall producer, Wright trains students as if they
were working for a network, drawing from his background as a live sports
director for the San Antonio Spurs and telecast director at the University of
Iowa. He works the games alongside the crew.
"It is very unusual that we are able to do this,"
Wright said. "When Athletic Director Sandy Hatfield Clubb and athletics
said they wanted to use students as much as possible, the stars really aligned
for us."
"The sports video product
that has been created by the students involved in this collaboration is
outstanding and of the highest professional quality," Clubb said.
"The talent and creativity of the scoreboard crew has significantly
contributed to the revived environment in the Knapp Center."
Four hours before each game the crew begins setting up the
equipment and checking cameras. Students start shooting streaming video about a
half hour before the game.

During the game the students are in constant communication
through headsets. Wright said the sellout games have presented a challenge for
the crew with increased new noise levels. "This year, we're having trouble
hearing each other, so we just have to trust each other."