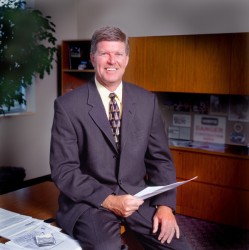 Mike Tousley
CONTACT: Tory Olson, 515-271-1834,tory.olson@drake.edu


Drake University's spring 2008
"Let's DU Lunch" series will continue with a speech by Weitz Co.
President Mike Tousley, Wednesday, March 12, at the Polk County Convention
Complex, 501 Grand Ave.
Tousley
will talk about the longtime partnership between Weitz Co. and Drake, which
began in 1926 with the construction of Drake Stadium and the Field
House. He will also discuss past and present university projects across the
150-acre campus that feature both modern architectural showplaces and historic
buildings.
"Let's DU Lunch" is open
to the public and sponsored by the Drake University Central Iowa Alumni Chapter
and the Greater Des Moines Partnership.
Tousley, who began his career with
Weitz Co. in 1980 as a project engineer, was promoted to project manager in
1988, senior project manager in 1993, vice president/construction manager in
1997 and president in 2002. Weitz Co. built several of the buildings on the
Drake campus and recently celebrated its 150th anniversary.
The series will conclude on
Wednesday, April 9, with Downtown Events Group Executive Director Stephen King.
The organization is responsible for producing numerous events in Central Iowa
including the Des Moines Arts Festival, Winefest Des Moines and the Wells Fargo
World Food Festival.
Cost is $15 per lunch. The
luncheons will begin with networking at 11:30 a.m., followed by the meal and
program at noon. Reservations are recommended due to limited seating.
For more information or to make a
reservation, contact the Drake Office of Alumni and Parent Programs at
515-271-3848 or dottie.johnson@drake.edu.