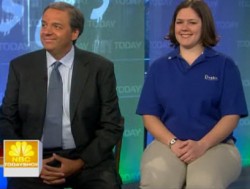 Seppy Basili of Kaplan and Lynn Grochowski on the 'Today' show.
'Today' show features Drake student in story on finding
college scholarships
Drake University senior Lynn Grochowski appeared on NBC's
"Today" show this morning in New York City as part of a story on
finding scholarship money for college.

The story noted that federal
funding for higher education has been increasingly shifting from grants to
loans. And now that there's a nationwide credit crunch, it may get tougher to secure
a student loan. That makes searching for private scholarships all the more
important.
NBC Chief White House Correspondent David Gregory
interviewed both Grochowski and financial aid expert Seppy Basili of Kaplan.
View the story on the "Today" show Web site.
Gregory noted that Grochowski, a National Alumni Scholar,
got a full ride scholarship from Drake covering tuition, room and board. Plus,
she received seven additional scholarships totaling $21,500 that helped cover
other costs such as textbooks, a computer and a study-abroad program.
Tips for securing scholarships
Then Gregory asked Grochowski how she went about searching
for scholarships.
"I started my junior year of high school —
investigating colleges that had a good television production unit, which is my
major, and also had good scholarships," said Grochowski, a native of
suburban Milwaukee.
"I figured I could get a big scholarship from a school,
which would cover everything," she added. "And, if that didn't work
out, I'd get a whole bunch of little scholarships to cover it. Luckily both
plans ended up working out for me."
Grochowski, who will graduate in May with no debt, explained
that the daunting process of applying for more than 40 scholarships required a
high level of organization and perseverance. "You have to make it a
part-time job," she said.
Expert advises students to cast a wide net
"Lynn did everything right," said Kaplan's Basili.
"She started early, which was important. She went ahead and she connected
[the scholarships with] her interests. The fact that she was interested in
media helped her get some of the scholarships.
"She wrote for those scholarships. Finally, she cast a
pretty wide net, looking at 40 different programs and yielding almost 20
percent, which is impressive."
Grochowski said she hopes her brief appearance on national
television will inspire high school students to apply for lots of scholarships.
"Granted, it's a lot of work and it's a gamble,"
she said. "But good things can happen if you put time and the energy into
the application process."
Behind the scenes on the 'Today' show
Being a guest on the "Today" show and getting to
see behind-the-scenes was an eye-opening experience for the television and
radio production major.
"It went really well. I'm happy with it," she said
afterwards. "It was interesting to see what goes on when the cameras are
not rolling . . . . The sets seem so big on TV, but they're really pretty tiny.
The have two different production rooms, which I wasn't expecting. It was very
interesting to see how everything worked there. Overall, it was a very cool
experience."
Grochowski, 22, found herself pampered as a
"Today" guest. A chauffer-driven car picked her up at the airport and
took her to her hotel. The "Today" show paid for her hotel for one
night as well as her plane tickets. A car also was provided to take her to the
studio and to return her to the airport for her trip back to Des Moines.
"They treat the guests on the show really well,"
Grochowski said. "It was way beyond my expectations."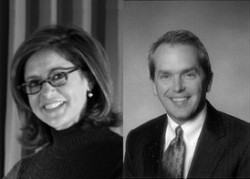 Pamela Bass-Bookey and J. Scott Johnson
Two new members to join Drake Board of Trustees
Former art dealer Pamela Bass-Bookey and Wells Fargo Bank executive J. Scott Johnson have been elected to the Drake University Board of Trustees.
When asked what strengths and skills she brings to the Board of Trustees, Bass-Bookey, art and design consultant for the Temple for Performing Arts, said,"As a new trustee I hope to help cultivate a relationship between the Des Moines community and Drake. I feel very strongly that Drake is an important resource in our community. As such it should play a more vital role in the quality of life in Des Moines."
"I am looking forward to learning more about the Center for Global Citizenship and the implications it has on leadership development and helping Drake students to become global thinkers and citizens," she said. "I think it is a very forward-thinking program."
Before joining the Temple for Performing Arts in 2001, Bass-Bookey was owner of Bookey Fine Arts, an art consulting business. The Des Moines resident is a member of numerous organizations including:
Des Moines Art Center Board of Directors
International Crisis Group Advisory Board
Women and Public Policy at Harvard University Advisory Board
Bucksbaum Lecture Series Committee at Drake University
Iowa Jewish Historical Society Board of Directors
In addition, Bass-Bookey is president of the Board of Directors for the Des Moines Public Art Foundation, co-founder of the Salisbury House History Series and a partner in Dos Rios restaurant on Court Avenue in Des Moines. She holds a bachelor's degree from the University of Wisconsin, Madison.
Johnson said as a member of the Drake Board of Trustees, "I hope to continue to be a resource to help ensure Drake University is the college of choice for undergraduate and graduate students, and that graduates of Drake University are the future employees of choice in the business and non-profit arenas."
Johnson has served on Drake's College of Business and Public Administration National Advisory Council since 2005. He said the council provides him the opportunity to share what he's learned about the needs of corporate America for skill sets needed by the workforce of the future.
"It has also provided me the opportunity to be engaged with the teaching faculty and the student body," Johnson said.
Johnson, a resident of Clive, Iowa, is regional president of Wells Fargo Bank in Iowa and Illinois. He began his career with Wells Fargo Bank, Iowa in 1979 as a regional credit trainee.
He graduated from Iowa State University in 1979 with a bachelor's degree in industrial administration and went on to earn a master of business administration degree from Drake University in 1990.
A graduate of Des Moines Leadership and Iowa Leadership, Johnson has spoken at Hoover High School, Iowa State University and Drake's "Let's DU Lunch" series.