Double D Awards honor outstanding Drake letter winners
Numerous Drake athletes go on to greatness in their careers
and communities. Drake University honored four of them with the Double D Award
on March 1.
Jody Busing, ED'79, GR'81, is vice president of purchasing
at MotorCity Casino/Hotel in Detroit, where she manages purchasing and
procurement of products and services and is presently overseeing purchases for
a $300 million addition to the casino.
As a Drake student, Busing played point guard on the women's
basketball team and became one of the first 1,000-point scorers in women's
basketball. After graduating from Drake, Busing served the University as an
assistant basketball coach and head softball coach.
She received the Jack North Memorial Award for Superlative
Athletic Achievement in high school softball in 1976; was recognized during the
University's 1981 centennial celebration as one of the all-time great athletes
in Drake history; and was inducted into the Iowa Girls High School Athletic
Union Softball Hall of Fame in 1985.
Bill Coldiron, ED'55, GR'68, attended Drake University on a
football scholarship. He concluded his 40-year teaching and coaching career at
Valley High School in West Des Moines, IA, in 1995. The school's field house
was renamed the Bill Coldiron Field House in his honor.
Under his leadership, the high school golf teams won a total
of 14 state championships. Coldiron also helped hundreds of youth and adults
learn the game of golf through his 30 years of work with West Des Moines Park
and Recreation.
He was named the NHSACA National Golf Coach of the Year in
1994; was inducted into the Iowa Golf Coaches Hall of Fame in 2004; and was
inducted into the National High School Athletic Coaches Association Hall of
Fame in 2005.
Patrick Meyer, BN'87, GR'90, is the group vice president at
Pella Corp. Since joining Pella in 1990, he has progressed through the company
with assignments in Pella, IA; Chicago; Shenandoah, IA; and Cincinnati.
Meyer recently held the position of president and COO of the
Entry Systems Division. He holds a Certificate of Professional Achievement in
Marketing from Northwestern University's Kellogg Executive Scholar Program.
At Drake, Meyer was a four-year letter winner and served as
captain for the Drake wrestling team. He is a member of the Drake University
Letterman's Club and serves on the National Advisory Council for the Drake
University College of Business and Public Administration.
Rita Harmening Pedersen, LA'81, GR'84, LW'84, is an attorney
and abstracter in Jefferson, IA, where she's been practicing law since 1984 and
has served as Greene County Magistrate Judge since 1995.
Pederson has served on numerous committees for the Iowa
Supreme Court, Iowa State Bar Association and Iowa Land Title Association.
Pedersen was a Drake Alumni Scholar and recently became a member of the Drake
National Alumni Scholarship Selection Committee.
She played on the women's basketball team from 1977 to 1980,
after which she continued to be involved with the program. Pedersen played in
or officiated scrimmages and operated the official 30-second clock for games
until 1986.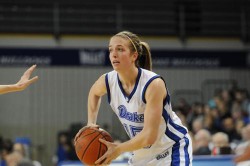 Lindsay Whorton
Whorton named to ESPN The
Magazine Academmic All-America squad
Drake senior guard Lindsay
Whorton recently became the third women's
basketball player in school history to be named a first team Academic
All-America selection when she was named to the five-player ESPN The Magazine
Academic All-America squad.
"I think this is a great
accomplishment and honor to be included in the tradition at Drake in terms of
being the complete student-athlete, both academically and athletically,"
said Whorton of Independence, Mo. "I think it is a great tribute to our team
because individual honors are team honors and we're having a good year with a
lot of success and I think this is a representation of that."
Whorton shares first team Academic
All-America recognition with former Bulldogs Jan Jensen (1990 and 1991) and
Tricia Wakely (1996). Jensen was named national Academic All-America Player of
the Year in 1991, while Wakely shared the honor in 1996.
"No one deserves the honor
more than Lindsay," Drake
head coach Amy Stephens said.
"She'll be a Rhodes Scholar candidate next year, she's an outstanding
person and basketball player and she exemplifies everything student-athletes at
Drake are all about. We are
extremely proud for her to receive this award."
An English and education double
major, Whorton boasts a 4.00 grade-point average. The Des Moines Register
recently publsihed a feature story about Whorton, headlined "Versatile
Whorton draws on brainpower." Read the story online.
A native of Independence, Mo.,
Whorton has started all 25 games for Drake and is averaging 14.2 points and 4.1
rebounds per game.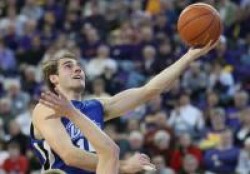 Adam Emmenecker has a 3.97 GPA and leads the Missouri Valley Conference in assists.
Emmenecker named Basketball
Academic All-American of Year
Drake University senior guard Adam
Emmenecker and senior forward Troy Ruths of Washington University (Mo.) head
the 2008 ESPN the Magazine Academic All-America® Men's Basketball Teams, as
selected by the College Sports Information Directors of America.
Emmenecker was named the Academic
All-American® of the Year for the University Division, while Ruths received the
same honor for the College Division for the second consecutive year.
"This is a tremendous
honor," said Emmenecker, a native of Saginaw, Mich. "A lot of people
don't get the opportunity to be in a position to combine academics and
athletics and Drake has allowed me to do both successfully. This award is a
testament to the accomplishments we have achieved on and off the court this
season."
Emmenecker owns a 3.97 grade-point
average in management, business, finance and entrepreneurial management. He has
led nationally ranked Drake to a 24-3 record and its first Missouri Valley
Conference title since 1971. The Bulldogs' 24 wins are two away from the school
record set by the 1968-69 squad (26-5) that advanced to the NCAA Final Four.
Emmenecker is a two-time MVC
Scholar-Athlete of the Week selection (Jan. 9, Jan. 22) and also earned MVC Player
of the Week honors Jan. 21.
Drake catches the attention of
SportsIllustrated.com
Sports Illustrated columnist Seth
Davis posted a column on the magazine's Web site Tuesday headlined "Once
left for the cellar, Drake's on top.
Davis, who noted that he's no
relation to any of Drake's three coaches named Davis — Keno, Chris and Rodell,
declared that "Of all the surprises during the 2007-08 college basketball
season, the one that has to rank at the top of the list is this: It's cool to
be Drake." The column is available online.