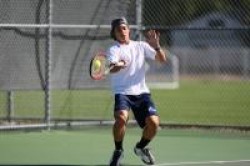 Ricardo Lau
Despite a stern test from DePaul, the Drake men's tennis team extended its national-best winning streak to 29 with a 5-2 victory over the Blue Demons on Saturday (Feb. 23) at the Drake Tennis Center.
The win extended the Bulldogs' home-court winning streak to 40 straight matches and kept Drake a perfect 9-0 on the campaign. The loss dropped the Blue Demons to 6-5 overall.
"This was a huge win for us," Bulldog head coach Chase Hodges said. "Our doubles play has been outstanding and it got us a huge point today. Dado (Pavic) again was strong, while Maor (Zirkin) got down and kept fighting to pull out a three-set victory."
Doubles play continued to spark the Bulldogs as Drake swept all three contests, with the duo of sophomore Bokang Setshogo (Gaborone, Botswana) and junior Ricardo Lau (Tegucigalpa, Honduras) clinching the point with an 8-6 decision at No. 2 over Vanja Grgec and Bartosz Jozwiak.
Improving to 23-4 in singles action was senior Dalibor Pavic (Adelaide, Australia), who gave the Bulldogs a 2-0 advantage registering a 6-0, 6-1 victory versus Jose Moncada at the top singles hole.
Rallying after dropping the first set, junior Maor Zirkin (Kibutz Hazor, Israel) bettered Austin Doerner in the next two sets to collect a 3-6, 7-6 (5), 6-2 win at the No. 2 singles position.
Setshogo clinched the match for Drake winning the second-set tiebreaker over Alasdair Graetz to post a 6-1, 7-6 (4) triumph at No. 5.
Lau added the final point for the Bulldogs as he netted a 2-6, 6-4, 6-2 win against Ben Hartman at No. 4.
The Bulldogs close out their weekend homestand hosting UMKC at 1 p.m. Sunday, Feb. 24, in the Drake Tennis Center.
No. 51 Drake def. DePaul, 5-2

Drake Tennis Center – Feb. 23, 2008

Records: Drake (9-0), DePaul (6-5)
Singles:

No. 1 No. 47 Dalibor Pavic (DU) def. Jose Moncada (DEP), 6-0, 6-1

No. 2 Maor Zirkin (DU) def. Austin Doerner (DEP), 3-6, 7-6 (5), 6-2

No. 3 Vanja Grgec (DEP) def. Mauricio Ballivian (DU), 5-7, 6-3, 7-6 (10)

No. 4 Ricardo Lau (DU) def. Alasdair Graetz (DEP), 2-6, 6-4, 6-2

No. 5 Bokang Setshogo (DU) def. Ben Hartman (DEP), 6-1, 7-6 (4)

No. 6 Bartosz Jozwiak (DEP) def. Ivan Mendoza (DU), 6-4, 6-2
Doubles:

No. 1 Pavic/Zirkin (DU) def. Moncada/Doerner (DEP), 8-4

No. 2 Lau/Setshogo (DU) def. Grgec/Jozwiak (DEP), 8-6

No. 3 Mendoza/Ballivian (DU) def. Adam Williams/Graetz (DEP), 8-6