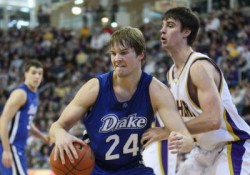 Senior Klayton Korver drives during a recent contest.
No. 16 Drake will face its sternest test of the season today when it plays No. 8 Butler (25-2) at historic Hinkle Fieldhouse in Indianapolis as part of the O'Reilly ESPNU BracketBusters pairings. It's Drake's first nationally televised game against a Top 25 opponent this season, and the potential audience of 96 million households would be Drake's largest since the Bulldogs appeared on CBS in 1975.
This is the first meeting between the schools since Dec. 6, 1972, when Drake claimed an 83-68 victory at Veterans Memorial Auditorium in Des Moines.
Drake was designated as the No. 1 seeded road team in the BracketBusters showcase. The two-day event features 50 games pairing 100 teams from 16 Division I conferences in matchups seldom scheduled outside the NCAA Tournament. A minimum of 14 games will be televised, with six contests on ESPN 2.
Last year, No. 16 Southern Illinois of the Missouri Valley Conference defeated host Butler, ranked 12th, 68-64 in a nationally televised BracketBusters game. Both teams reached the NCAA Tournament Sweet 16.
Ron Franklin and Fran Fraschilla will describe today's action on ESPN2, starting at 4 p.m. CST. The game also will be carried nationally on Sirius Satellite Radio, Channel 130, with Kevin Kugler and Bill Frieder handling the announcing duties. In addition, KRNT Radio (1350 AM), the flagship station of Drake basketball, will feature Larry Cotlar and Dolph Pulliam announcing the game, starting with a pregame show at 3:30 p.m. CST. There will be a Game Watch at Boston's Gourmet Pizza,12401 University Ave. in Clive, Iowa. Activities will start at 3 p.m. CST.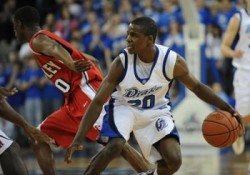 Sophomore guard Josh Young recently appeared in an online chat on ESPN Sports Nation.
Drake sophomore guard Josh Young (Lawton, Okla.) talked about the Bulldogs' Cinderella season and today's game when he participated in an online chat with fans Thursday on ESPN Sports Nation. Young is the only player in the Missouri Valley Conference to rank in the top 10 in three-point baskets made (60-3.07 avg., first) scoring (16.2 avg., second), three-point field goal percentage (.461, second) and steals (35-1.52 avg., ninth).
DRAKE IN BRACKETBUSTERS: Drake owns a 3-1 record in the BracketBusters series, earning victories at Akron (82-78 overtime) in 2004, San Jose State (73-57) in 2005, and Wisconsin-Milwaukee (84-76) last year. Drake lost at UC Irvine, 70-67, in 2006.
MIRRORED IMAGES: The similarities between Drake and Butler are intriguing. Besides sharing the same nickname, Bulldogs, the two schools have enjoyed success under first-year coaches, while winning games with strong perimeter shooting, tough defense, balanced scoring and hustle. The teams rank among the nation's leaders in scoring defense, three-point field goals per game, free throw percentage and turnovers per game.
THE SERIES: Butler leads the series, 4-2, winning the first four games when it was a member of the Missouri Valley Conference from 1932-34. This will mark Drake's fourth game played in Indianapolis, with Butler capturing MVC championships when it beat Drake, 43-21, Feb. 25 1933, and 39-27, Feb. 26, 1934. Drake earned an 87-77 victory Dec. 4, 1971, in its last appearance at Hinkle Fieldhouse, where the movie "Hoosiers" was filmed.
TOP 10 VISIT: This will mark Drake's first game against a top-10 opponent since giving then No. 8 Boston College all it could handle before falling, 87-84, in the semifinal round of the 2005 Las Vegas Invitational.
GARNERING RESPECT: Drake enters the Butler game ranked:
No. 3 in the latest CollegeInsider.com Mid-Major poll
No. 15 in the latest College Basketball Ratings Percentage Index
No. 16 in the latest Associated Press poll
No. 18 in the ESPN/USA Today Coaches poll
No. 20 in the latest Sagarin NCAA basketball ratings
No. 3 in the latest CollegeInsider.com Mid-Major poll
SUCCESS STARTS WITH SENIORS: With graduation claiming four senior starters from last year's 17-15 team, it was easy for prognosticators to pick Drake to finish ninth in the Missouri Valley Conference preseason poll.
But the media forgot to look at the veteran leadership returning that has made Drake's 23-3 start draw national attention as THE STORY in college basketball this season.
Seniors Adam Emmenecker, Leonard Houston and Klayton Korver have combined to appear in 303 Drake games during their careers. Then there's fourth-year Drake juniors Jonathan Cox and Brent Heemskerk who have combined to appear in 182 games.

REVERSAL OF FORTUNE: Drake lost five MVC games by a combined total of 23 points (4.6 avg.) in 2006-07, en route to a 6-12 league mark. This season the Bulldogs are winning the close games, with six of their 14 league victories by a combined total of 26 points. Drake also has cut down on turnovers, owning the lowest average in the league at 12.0. The Bulldogs committed a school-record-low four turnovers at Northern Iowa last Saturday.
A SEASON TO REMEMBER: Drake's 23-3 mark is the best start in school history, along with the recent school-record 21-game winning streak. The 21-game winning streak was the fourth longest winning streak by a team in Missouri Valley Conference history, and the longest winning streak since Bradley reeled off 22 straight wins in 1985-86.
The 23 victories are the most at the school since the 1968-69 team, under Maury John, went 26-5 en route to finishing third in the 1969 NCAA Final Four. That team owned the previous school record winning streak at 12 games until losing in the semifinal round of the Final Four to eventual national champion UCLA, 85-82.
Drake's 13-0 league start marked just the fifth time in the last 50 years that a school has enjoyed a 13-0 start in the MVC. Only 14 previous teams in MVC history have started the conference schedule with 13-0 records. Southern Illinois was the last MVC school to win its first 13 league games, en route to going 17-0 in the 2003-04 season.
Drake has more than doubled its entire MVC victory output of six wins in 2006-07, while the 14 wins are the most MVC victories since the 1969-70 team, under coach Maury John, went 14-2, en route to winning a share of the league title.
AMBITIOUS: Drake is looking to get back to post-season play for the first time since 1986. The Bulldogs played in the NIT that year and last reached the NCAA Tournament in 1971.
Drake's post-season drought is the longest among any MVC member, as every other current member of the league has been in the NCAA Tournament at least once in the past 10 seasons. Drake's NCAA Tournament drought is the eighth-longest nationally (the distinction goes to Harvard, which hasn't been to the NCAA Tournament since 1946).
TITLE TOWN: Drake became the first Division I school to win a conference regular season title this season when it earned a 65-55 victory at Northern Iowa last Saturday. It marked the Bulldogs' first Missouri Valley Conference title since the 1970-71 season.

Drake has seven MVC titles in its history, including three straight from 1969-71, winning one-game playoffs for the crown in 1969 and 1971 and taking an outright title in 1970.
The Bulldogs also have earned the top seed for the State Farm MVC Tournament in St. Louis, Mo., March 6-9. Drake has never been seeded higher than No. 3 (1986) in the history of the 32-year tournament until this year.
BANKING ON HISTORY: Fourteen straight MVC regular-season champions have reached the NCAA Tournament. Illinois State (1992-93) was the last to win the league's regular season crown and not make it to the Big Dance.



THE COACH: Keno Davis was named Drake's 24th head men's basketball coach on March 21, 2007, succeeding his father, Dr. Tom Davis, who retired as head coach but remains at Drake as a special assistant to the athletic director.
Keno Davis served six years as an assistant coach under former Drake head coach Gary Garner at Southeast Missouri State, before being named the first assistant to join the men's basketball coaching staff at Drake under Tom Davis on May 19, 2003.
He also was an assistant coach at Southern Indiana from 1995-97 under coach Bruce Pearl who is now the highly successful coach at Tennessee. Keno earned a bachelor of arts degree in communications studies from Iowa in 1995.
LIKE FATHER, LIKE SON: Besides similar coaching styles, first-year Drake coach Keno Davis is also enjoying the same type of success his father encountered. Tom Davis was 21-6 in his first year as a college head coach — at Lafayette in 1971-72.

He won 18 straight games in his first year at Iowa in 1986-87, posting a 30-5 mark.