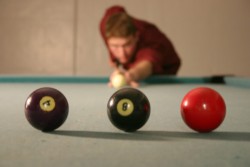 Sophomore Daniel Haymes plays Albert, a champion pool player, in Drake's production of "Three the Hard Way."
CONTACT: Dana Gustafson, dmg014@drake.edu;

Lisa Lacher, 515-271-3119, lisa.lacher@drake.edu
Drake University Theatre will present two shows in rotation this weekend: "Three the Hard Way" by Linda Eisenstein and "Romantic Comedy" by Bernard Slade. Both productions represent the Senior Capstone Projects of directing majors Megan Benzing of Monona, Iowa, and Daryl Vitali of Alton, Ill.
"Three the Hard Way," directed by Benzing, examines the relationships between three adult sisters who come together to deal with the death of their father. Never the closest of siblings, these strong-willed women try to sort out the history and family dynamics that have shaped their lives, while the ghost of their father looks on.
"Romantic Comedy," directed by Vitali, is just that: an updated version of classic romantic comedies that takes a lighthearted look at the relationship between a successful male playwright and his young female collaborator as it changes over the course of their careers.
In addition to being student directed, both productions showcase the work of student designers including junior Amy Schneider of St. Paul (scenic design), sophomore Mike Draheim of Mason City, Iowa, and junior Maureen Fitzgerald of Lincoln, Neb., (lighting designs), and junior Kiley Fattor of Black Hawk, Colo., and Marnie Strate of Windsor Heights, Iowa (costume designs).
Each year in its main stage season, Drake Theatre typically selects one student, from multiple applicants, to direct a full-length production — a chance offered by very few universities. This season, Drake selected three student directors for its main stage lineup. In December, senior Jasmine Teo directed Yasmina Reza's "Art."
"The rotating repertory schedule of 'Three the Hard Way' and 'Romantic Comedy' is the result of outstanding proposals on the part of senior directing majors and an attempt by the department to create as many production opportunities as possible," said Theatre Department Chair Michael Rothmayer. "It is also, to a certain extent, a test of both the creativity and collaborative nature of these directors and their production teams."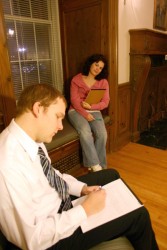 Seniors Phil Gill and Jenna Schoppe star as Jason and Phoebe in Drake's production of "Romantic Comedy."
"This opportunity to collaborate with my peers has been fantastic," Vitali said. "Directing the student show is a truly unique experience. While we, of course, have the support and guidance of our faculty, they do not do our work for us. Being not only involved in but also responsible for all the elements of the finished product can be overwhelming, but the exhilaration of seeing everything come together makes it so worth the effort."
"Having spent so much time prior to rehearsals with only the script and my imagination, it's amazing to see everything inside my mind coming alive in front of me," Benzing said. "Everyone involved with these productions has put so much effort into their work, to be able to step back and see what we've accomplished is a great feeling. I'm very excited to share this experience with the coming audiences."
Performances of "Three the Hard Way" concluded on Saturday, Feb. 23. "Romantic Comedy" will be performed at 2 and 8 p.m. Sunday, Feb. 24, place in Studio 55 of the Harmon Fine Arts Center, 25th Street and Carpenter Avenue. The show contains adult language and sexual content.
Tickets, which are free with reservations, are available at the Drake Fine Arts Center Box Office. Reservations may be made in person or by calling 515-271-3841.