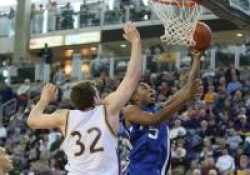 Leonard Houston scored 12 points and grabbed six rebounds at UNI.
CEDAR FALLS, IOWA — Senior guards Adam Emmenecker and Leonard Houston scored four points apiece to trigger a 13-2 scoring spree late in the game, enabling No. 14 Drake to beat Northern Iowa, 65-55, while winning its first Missouri Valley Conference title since 1971.
The Bulldogs, who were picked to finish ninth in the preseason coaches and media poll, improved to 23-2 overall, including a 14-1 league mark.
Their win, combined with second-place Illinois State's 76-72 loss at Indiana State, allowed Drake to win the regular season title. Illinois State slipped to 10-5 with just three league games remaining.
This marks the first time Drake has won 14 MVC games since the Bulldogs posted a 14-2 record in 1969-70 en route to earning a share of the MVC title. It marked Drake's ninth road win to set a school record. And this victory was done in similar fashion by erasing a first-half deficit.
"It has been an amazing year," said first-year Drake coach Keno Davis. "Being picked ninth in the preseason poll makes this sweeter because the players came into the season with a chip on their shoulder. These guys play with a quiet confidence. They aren't a rah-rah group."
The 23 wins are the second most in a season by a Drake team, trailing only the 26-5 record by the 1968-69 team which finished third in the NCAA Final Four.
Drake wiped out a 29-28 halftime deficit to push its record to 7-1 when trailing at halftime this season, including 6-1 on the road.

With the scored tied at 48-48 reserve forward Brent Heemskerk started Drake's late outburst with a layup off a feed from guard Adam Emmenecker.
Heemskerk caught the Northern Iowa defense sleeping and threw a perfect alley-oop to Houston, whose dunk put the Bulldogs ahead 52-48.
Senior Klayton Korver grabbed a tough rebound and hit a three-point basket at the other end to stretch Drake's lead to 55-48 with 4:13 left. Emmenecker hit a layup in traffic to make it 57-50.
Houston's putback pushed the Drake's lead to 59-50 with 1:52 left.
This marked the first time Drake has ever won consecutive road games in back-to-back seasons at Northern Iowa.
It also marked Drake's 10th straight victory against an Iowa college (Waldorf, Iowa State-2, Iowa-2, Northern Iowa-4 and Cornell).
Emmenecker had a game-high 13 points along with eight assists, seven rebounds and three steals as Drake set a school record with just four turnovers.
Houston and Josh Young finished with 12 points apiece.
Young and Korver hit three three-point baskets to help Drake set a school single-season record with 233 three-point baskets, bettering the previous mark of 232 set in the 2001-02 season.
Despite missing 11 of its first 15 shots, Drake was able to go ahead 20-15 on a three-point basket by junior reserve guard Jacob Baryenbruch.
Junior forward Jonathan Cox also grabbed a team high seven rebounds for Drake which outrebounded the taller Panthers, 33-25.
The Bulldogs made 18 of 19 free throws to overcome 39.2 percent shooting from the floor (20-51).
Drake will host Bradley at 7:35 p.m. Tuesday, Feb. 19, at the Drake Knapp Center. Bradley has won seven of its past nine games, including Saturday's 87-59 victory over Creighton.
Although the Bulldogs' remaining home games are sold out, all of Drake's remaining games will be on television. Fox Sports will show the Feb. 19 game against Bradley. ESPN2 will carry the Feb. 23 game at 4 p.m. at Butler and the last home game at 1 p.m. March 1 against Wichita State. Fox Sports and CBS will televise the MVC Tournament March 6-9.