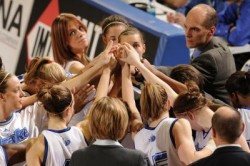 The Drake Women's Basketball team huddles at a recent game.
Drake University will participate in the Women's Basketball Coaches
Association's national cancer awareness "Think Pink" week when the
women's basketball team takes on Southern Illinois Saturday, Feb. 16.
The game, which has already sold more than 3,500 tickets, will start at
6:05 p.m. in the Drake Knapp Center.
The "Hoops 4 Hope" game will also feature a celebration of cancer
survivors who will be honored on the court during the halftime show.
In addition, the women's basketball team will sport pink jerseys to
promote the initiative. During the game, a silent auction will be held
for a replica of each pink jersey. A list of players and numbers is
available online.
Fans are also encouraged to wear pink to the game to support the
fight against cancer. The first 4,500 fans to enter the Knapp Center
will receive a free Hoops for Hope t-shirt, and other shirts will be
available for purchase for $4.
Drake is one of more than 500 schools across the county
participating from Feb. 8-17 in "Think Pink," which is more than twice
the number of schools involved last year.
To purchase tickets, visit the Drake Web site or call 515-271-3647. Group tickets are available at a discounted rate.
For group scheduling or to get involved or for more information,
contact trrunner@drake.edu.
Hoops 4 Hope sponsors include:

• The American Cancer Society

• Medical Oncology and Hemotology Associates

• The Cancer Society of Iowa

• John Stoddard Cancer Center

• Mercy Cancer Center

• Susan G. Komen Foundation

• Colleges Against Cancer
Additional information about "Think Pink," is available online.