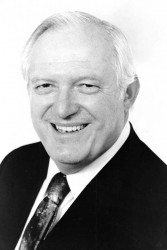 Don Davidson
FOR IMMEDIATE RELEASE
Feb. 7, 2008
CONTACT: Tory Olson, 515-271-1834, tory.olson@drake.edu
PHARMACY STUDENTS TO GAIN STATE-OF-THE-ART PRACTICE LAB
Drake University Trustee Don Davidson is making a $300,000
gift to renovate the Donald F. Davidson Pharmacy Practice Laboratory in Fitch
Hall.
Davidson's gift will revamp the lab that was originally
established in his honor in 1997. It will provide students in Drake's College
of Pharmacy and Health Sciences with the most up-to-date resources to master
their laboratory skills before entering the work force.
"This gift will transform the
college's Pharmacy Practice Laboratory into an exceptional learning environment
for students to develop skills through interaction with the latest dispensing and patient care
technology," said Raylene Rospond, dean of the college.
Plans for the renovation will change the space to better
resemble a pharmacy practice setting. The renovated lab will also allow
students in different levels of the pharmacy program to share a common
laboratory and collaborate, no matter their experience or expertise. The lab is
scheduled to be completed by spring 2009.
Renovation plans include:
Expansion
of laboratory space
Replacement
of lab benches with eight mobile individual work units for drug
dispensing, patient counseling and assessment
Creation
of space for drug distribution system examples found in long-term care and
hospital pharmacy settings
Installation
of new audiovisual technology, making the lab a true electronic classroom
Development
of an over-the-counter product laboratory space
The updated lab will help the college continue to meet the
evolving standards set by the Accreditation Council for Pharmacy Education for
the education of pharmacists, providing students with the opportunity to
develop critical thinking and problem-solving skills in the laboratory
experience.
"It gives me a great deal of satisfaction to make this
gift possible," said Davidson, a resident of Laguna Niguel, Calif.
"Pharmacy education at Drake is outstanding and ranks among the best
anywhere in the United States. I am confident the renovated Pharmacy Practice
Laboratory will allow our students to excel in this critical and practical part
of their education."
A longtime Drake benefactor and member of the Board of
Trustees since 2003, Davidson graduated from Drake in 1950 with a bachelor's
degree in pharmacy. After graduation, he practiced community pharmacy in
Illinois and then served in the Army as a hospital pharmacist at Walter Reed
Army Medical Center.
In 1955 Davidson launched a distinguished 32-year career
with Abbott Laboratories, where he excelled in numerous positions in sales and
marketing and as director of field sales for the Hospital Products Division.
While working full-time at Abbott, Davidson earned a master's degree in
business administration from the University of Chicago's Graduate School of
Business Executive Program.
He has received many honors, including Drake's Alumni
Loyalty Award, the Alumni Achievement Award from the college and the Lawrence
C. and Delores M. Weaver Medal of Honor.
Davidson chaired the Drake President's Circle for two years
and has been a member of the National Advisory Council for the College of
Pharmacy and Health Sciences for several years.