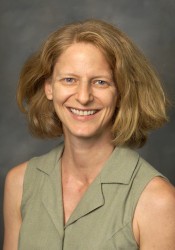 Leslie Marrs
CONTACT: Lisa Lacher, 515-271-3119, lisa.lacher@drake.edu
Leslie Marrs, assistant professor of flute at Drake University, will present a faculty recital at 5 p.m. Sunday, Feb. 24, on the Jordan Stage of Sheslow Auditorium in Old Main, 2507 University Ave. The performance is free and open to the public.
Drake faculty members Cynthia Giunta, piano; Ashley Sandor-Sidon, cello; and Jennifer Wohlenhaus-Bloomberg, oboe, will join Marrs. The four musicians will perform Ludwig van Beethoven's Duo in F Major, Robert Fruehwald's "Three Fantasies on Irish Folk Melodies" and "Hymntunes IV: Imenetuki," Thea Musgrave's "Impromptu No. 1" and Sergei Prokofiev's Sonata in D Major.
Beethoven's three duos for clarinet and bassoon are presumed to have been written between 1810 and 1815 and republished in 1815 for violin and cello. The set has enjoyed popularity as party music in various combinations involving flute, oboe, violin or clarinet in the treble, and with cello or bassoon in the bass.
Fruehwald's "Three Fantasies on Irish Folk Melodies" were inspired by Irish folk music played by his wife and her harp students. The first tune, "O'Carolan's Lament," is a lyrical, pensive melody that explores particular characteristics of the bass flute. "Tobin's Jig" bounces back and forth between regular and lop-sided dance meters, as if the entire dance were complete spontaneous revelry. The last tune, "My Lagan Love," explores the higher overtones on the bass flute as well as the warmth of the middle and low registers.
Fruehwald's "Hymntunes IV: Imenetuki" is based on a simple two-phrase gospel chant brought to the Cook Islands from Scotland. Drumming signals and patterns are interspersed throughout, with the sounds of various sizes of log drums imitated on the flute through the use of tongue rams and key clicks.
As the title implies, the "Impromptu" of 1967 is a light-hearted work. This brief composition is based on the distinctive opening phrase, unfolding with tricky but whimsical passages that conclude with a unison nod and a wink.
Sergei Prokofiev wrote his flute sonata from 1942-43; it was premiered by Nikolai Kharkovsky, flute, and Sviatoslav Richter, piano. By the close of the 20th century, the sonata rose in prominence as a work for flute.
Marrs has performed as a chamber musician from the nation's capital to India, and England, and has been featured as soloist with the Bay View Festival Orchestra, the University of North Carolina at Greensboro Orchestra and the United States Army Field Band.
In addition, she has performed as a competition winner at National Flute Association (NFA) conventions. She is a winner of the NFA Dissertation Competition, and has presented "Integrating Extended Techniques into Flute Pedagogy: A Resource Guide for Flutists, Teachers, and Composers" at the 2005 NFA convention in San Diego.
Marrs' interest in contemporary music has led to performances of new music at the College Music Society annual conferences as a member of the CMS players. As a former board member and vice president of the Baltimore Composers Forum, she premiered several works for composers in Baltimore and Washington, D.C.
She has also hosted her own radio show, "Music from Marrs," for WHFC in Hartford County, Md. She earned a doctorate in music at the University of North Carolina at Greensboro, a master's from Florida State University and a bachelor's from Virginia Commonwealth University.
Her flute teachers include Mark Sparks, Charles DeLaney, Deborah Egekvist, Francile Bilyeu and Tim Day. She can be heard on James Brody's "Background Count," released on the Furious Artisans label, as well as "Consolation," for Holy Trinity Episcopal Church in Greensboro, N.C.