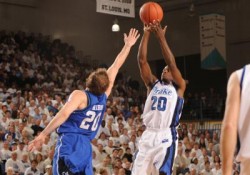 Josh Young, the leading scorer in the MVC, finished with 17 points, including five treys.
CARBONDALE, ILL. — Leonard Houston's three-point basket that could have sent the game into overtime bounced off the rim at the buzzer as Drake fell to defending Missouri Valley Conference champion Southern Illinois, 65-62, Wednesday night.
The 14th ranked Bulldogs had their 21-game winning streak snapped but still remained in strong position to clinch a share of its first Missouri Valley Conference title since 1971.
Drake fell to 22-2 overall, including a 13-1 league mark owning a three-game lead over second-place Illinois State (10-4) with four games remaining.
Southern Illinois, which won its 18th straight MVC home game, improved to 60-1 at home against MVC opponents dating back to the 2001-02 season.
The Bulldogs missed three chances to tie the game in the closing 10 seconds.
Wesley Clemmons made a layup to give Southern Illinois a 64-62 lead with 1:24 remaining.
Drake senior guard Adam Emmenecker tried to answer with a drive through the lane as the clock ticked down to 11 seconds. His shot hit the backboard and rim before falling away.
Houston, who had a career-high four steals, tried to tap it in, but failed.
Emmenecker grabbed the ball, but was stripped. Drake's Klayton Korver then fouled Southern Illinois' Matt Shaw who made the first free throw to push the score to 65-62.
Shaw missed his second attempt with Korver grabbing the rebound, allowing Drake to call time out with 2.3 seconds left.
The Bulldogs used another time out with 1.7 seconds remaining after guard Josh Young received the inbounds pass at midcourt. That set up the final play for Houston who missed a jumper from the left wing from 22 feet as two Southern Illinois defenders lunged toward him.
Young, the leading scorer in the MVC, finished with 17 points, including five three-point baskets. It marked the eighth game this season in which he made at least four three-point baskets in a game.
Consecutive three-point baskets by Korver, at the top of the key, and Young, from the left baseline, allowed Drake to knot the score at 62-62 with 1:32 left.
Drake junior forward Jonathan Cox, the leading rebounder in the MVC, enjoyed his ninth double-double of the season with 11 points and 10 rebounds. Korver also added 11 points, including three three-point baskets.
Drake, which leads the MVC in three-point shooting, made 10 three-point baskets to mark the 11th game this season in which it had reached double digits from beyond the three-point arc.
The Bulldogs made seven three-point baskets in the first half, equaling its entire output of seven treys in the Jan. 2 game against the Salukis.
The lead changed hands four times in the first half with Young hitting a three-point basket to give Drake a 36-35 edge before the host Salukis rebounded for a 39-36 halftime lead. Drake's 36 points were the most any opponent had scored in the first half of a game at SIU Arena this season.
Drake's bench, which failed to score a point in the previous game against the Salukis, accounted for 15 points in the first half. Freshman reserve guard Josh Parker tied a career high with two three-point baskets.
Young moved into No. 9 on Drake career three-point basket list at 122, surpassing Chris Bryant (2004-07) who had 120.
Drake has made 226 three-point baskets this season, just six treys shy of tying the school single-season mark of 232 set in 2001-02.
The Bulldogs will travel to the University of Northern Iowa for a 1:05 p.m. game on Saturday, Feb. 16. They will take on Bradley at 7:35 p.m. Tuesday, Feb. 19, at the Drake Knapp Center.
Drake will be featured in the sixth annual O'Reilly ESPNU BraketBusters — a multi-day men's basketball event matching NCAA Tournament hopefuls against each other on Friday, Feb. 22, through Sunday, Feb. 24.
The Bulldogs will travel to Indiana to play 10th ranked Butler on Saturday, Feb. 23, with a 4 p.m. Central time tip off. The game will be televised on ESPN2.