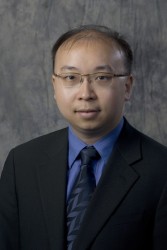 Peter K. Yu
CONTACT: Peter K. Yu, 515-271-2948,
peter.yu@drake.edu; Tory Olson, 515-271-1834, tory.olson@drake.edu
The Intellectual Property Law Center at Drake
University will hold the 2008 Intellectual Property Scholars Roundtable from 9
a.m. to 6 p.m. Friday, Feb. 22, and Saturday, Feb. 23, at the Neal and Bea
Smith Law Center Courtroom, 2400 University Ave. The event has attracted more
than 50 intellectual property scholars from around the world, featuring
participants from the United States as well as Canada, China, Finland,
Singapore and the United Kingdom.
"One of our aspirations is to become an
international hub for research and education in the intellectual property
area," said Professor Peter K. Yu, the Kern Family chair in intellectual
property law and the founding director of the Intellectual Property Law Center. "This roundtable helps us achieve this goal
by bringing together leading and up-and-coming scholars to present their latest
research."
Yu is a leading expert in international
intellectual property and communications law. A prolific scholar and an
award-winning teacher, he is the author or editor of three books and more than
40 law review articles and book chapters. His lectures and presentations have
spanned more than 15 countries on five continents, and he is a frequent
commentator in the national and international media.
He is also the co-founder of the pioneering
Annual Intellectual Property Scholars Conference, which rotates every summer
among Cardozo, DePaul, Stanford and the University of California, Berkeley, law
schools. The conference has since become the model for other works-in-progress
conferences in the field.
The Intellectual Property Law Center was
established in fall 2007 with the generous support of a $1.5 million endowment
gift from 1972 Drake Law School graduate Wayne Kern and his wife, Donna, and a
$750,000 leadership commitment from Pioneer Hi-Bred International Inc., a
subsidiary of DuPont.
Upcoming center events include a distinguished
lecture April 22 by Ralph Oman, the register of copyrights (1985-1993); a
one-of-its-kind summer institute on intellectual property, biotechnology and
agricultural sciences; and a major conference in Hong Kong on the latest
Internet developments in China.
The Intellectual Property Law Center at Drake
University offers an innovative curriculum, providing students with a solid
foundation in both the theoretical and practical aspects of intellectual
property law. It also features an annual summer institute that brings together
judges, policymakers, industry leaders, attorneys, academics and students to
explore cutting-edge issues at the intersection of intellectual property,
biotechnology and agricultural sciences.
In addition, the center serves as an
international research hub, fostering partnerships with leading research
institutions from around the world. Every year, it sponsors groundbreaking
symposia and distinguished lectures; hosts eminent speakers and internationally
recognized experts; publishes books and an occasional paper series; and
develops international research and outreach programs.
The registration fee for the roundtable is $150.
The fee has been waived for Drake faculty, students and alumni. For more
information about the roundtable, visit the Web site or contact Landra
Carty at 515-271-2141 or landra.carty@drake.edu.