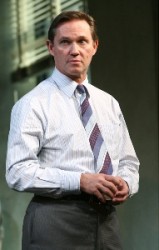 Richard Thomas
CONTACT: Tory Olson, 515-271-1834, tory.olson@drake.edu
Richard Thomas, star of "Twelve Angry Men," now playing at the Civic Center of Greater Des Moines, will visit Drake University Friday, Feb. 15, for an "Inside the Actors Studio"-style discussion.
Deena Conley, Drake assistant professor of theatre arts, will moderate the talk, which will take place at 3 p.m. in the Performing Arts Hall in the Harmon Fine Arts Center, 2505 Carpenter Ave. This event is free and open to the public.
Thomas plays Juror Eight in the Betts Broadway Series Presentation of "Twelve Angry Men," which runs through Saturday, Feb. 17. For more information about the show and for ticket information, visit the Web site.
Known for his Emmy Award-winning turn as John-Boy in "The Waltons," Thomas recently appeared on Broadway in "A Naked Girl on the Appian Way." Other stage credits include "As You Like It," "Democracy," "The Stendahl Syndrome," "Tiny Alice," "Love Letters," "The Front Page," "Fifth of July" and "The Seagull."
He has also performed in a variety of classical roles around the country including Hamlet, Richard III, The Count of Monte Cristo and Puck in "A Midsummer Night's Dream." In addition, Thomas has starred in more than 40 films for television.