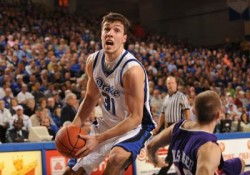 Jonathan Cox drives to the basket.
Junior forward Jonathan Cox scored 14 of his season-high 21 points in the second half, helping power 15th ranked Drake to its school-record 21st straight victory with a 73-65 Missouri Valley Conference win over Evansville Saturday.
Drake improved to 13-0 in the MVC. One more Bulldog win, or one more Illinois State loss, will secure Drake's first MVC conference title since 1971. Second-place Illinois State kept Drake from clinching at least a share of the title by defeating Bradley 72-68 on Saturday.
A sixth consecutive sellout crowd of 7,152 in the Drake Knapp Center saw the Bulldogs improve their record to 22-1, which is the best start in school history and the most victories at the school since the 1969-70 team, under coach Maury John, went 22-7 en route to advancing to the championship of the NCAA Midwest Regional.
The 22 wins under coach Keno Davis are the most ever by a first-year head coach at Drake. This is the third time a Drake team has won at least 22 games in a season — joining the 1969-70 (22-7) and 1968-69 (26-5) squads.
Drake enjoyed a 33-24 halftime lead and expanded its margin to 59-40 following a three-point basket by Cox with 11:14 left in the game.
The Bulldogs forced Evansville into seven turnovers in the opening eight minutes of the second half.
But the Purple Aces hung around shooting a sizzling 65.4 percent in the second half to chop the deficit twice to eight points.
Cox bettered his previous single-game high of 19 set in an 81-78 victory at Evansville on Jan. 6.
Senior guard Leonard Houston added 15 points for Drake, while tying a career high with seven rebounds.
Sophomore guard Josh Young chipped in with 13 points, more than doubling his season low of six points scored in the earlier game at Evansville.
Senior guard Adam Emmenecker dished out nine assists, while moving into No. 9 on the Drake single-season assist list at 135, surpassing Curt Smith who had 130 in 1992-93.
Evansville went 6 minutes 5 seconds without a basket in the first half, while missing five shots and committing five turnovers (18:40 to 10:35). Drake capitalized by reeling off 13 straight points to turn 3-2 lead into 16-4 advantage.
The 21-game winning streak is the fourth longest winning streak by a team in Missouri Valley Conference history. It is the longest winning streak by an MVC school since Bradley won 22 straight games in 1985-86.
Junior forward Shane Ely led Evansville with 18 points, while sophomore guard Jay Couisnard came off the bench to add 11 points.
Evansville fell to 7-16 overall, including a 2-11 league mark.
The Bulldogs will play four of their next five games on the road, starting Wednesday with a visit to defending league champion Southern Illinois.