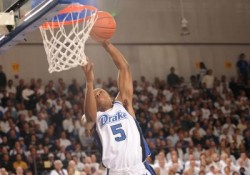 Leonard Houston goes up for two of his 22 points.
NORMAL, ILL. — Senior guard Leonard Houston and sophomore guard
Josh Young combined for 39 of Drake's 44 second-half points, helping
the No. 15 ranked Bulldogs rally from an 11-point deficit to a 73-70
victory at Illinois State Tuesday night.
Drake extended its school-record winning streak to 20 games, which
is the second longest active streak in the NCAA, trailing only the
21-game string by top-ranked Memphis.
The Bulldogs improved their record to 21-1 — the most victories at
the school since the 1970-71 team, under coach Maury John, who went
21-8.
This marks the first time Drake has won 12 Missouri Valley
Conference games since the Bulldogs were 14-2 in 1969-70. The 21 wins
under coach Keno Davis are the most by a first-year head coach at
Drake.
The Bulldogs also extended their school-record streak to six
straight MVC wins on the road. Drake has won eight road games, the most
since the 1969-70 team won seven.
The team is ranked 15th in the latest Associated Press Top 25
college basketball poll and the USA Today/ESPN Coaches Poll. The
Bulldogs are attracting national media coverage, including a major story in Tuesday's USA Today. Look for stories in the next issue of ESPN Magazine and Sunday's Washington Post (a column by John Feinstein).
View
an audio slide show about both the men's and women's basketball teams
by visiting the Drake home page and clicking on Drake Basketball:
Building a Winning Legacy.
It was announced Monday that the Bulldogs will be showcased in
ESPNU's BracketBusters series on Feb. 23. Drake will visit No. 10
Butler (19-2) and play in the historic Hinkle Fieldhouse, where scenes
from the movie "Hoosiers" were filmed. The BracketBusters series, now
in its sixth year, features a total of 28 teams from 11 mid-major
conferences squaring off in televised games Feb. 22-24. Game times and
television programming are scheduled to be released Feb. 11.
On Tuesday, Drake silenced a crowd of 8,185 at Redbird Arena with
its comeback while snapping a 13-game home winning streak by Illinois
State.
The Bulldogs, who swept the season series against Illinois State for
the first time since 2000-01, own a four-game lead over the
second-place Redbirds (16-7 overall, 8-4 MVC) with just six league
games remaining.
The script for success followed a similar path Drake has used in
winning its last five MVC road games — rallying from a first-half
deficit. Drake erased a 38-29 halftime lead while improving its record
to 6-0 when trailing at half.
For the second straight road game, the Bulldogs shot a blistering 56
percent from the floor in the second half, making 14 of 25 shots — the
exact same second-half shooting percentage used in an 83-77 win at
Indiana State last Saturday.
Young, the leading scorer in the MVC (16. 1 avg.) who missed the
previous game against IllinoisState because of a sprained ankle, scored
17 of his 18 points in the second half.
Houston tallied 12 of his game-high 22 in the second period.
The duo combined to score 20 points in a 27-8 surge over 9 minutes
19 seconds that turned a 46-35 deficit into a 62-54 advantage. Young
scored 14 points in the outburst, including four straight three-point
baskets. Houston added six points.
After Young's three-point basket pulled Drake within 52-51, he stole
the inbounds pass and fed Houston for a layup that gave the Bulldogs a
53-52 lead they never relinquished.
Senior forward Klayton Korver added a rebound layup; then senior
guard Adam Emmenecker made a basket off his own steal to give Drake a
62-54 cushion with 6:53 left.
Korver punctuated the rally with a three-point basket at the top of
the key with 6:53 left to give the Bulldogs their biggest lead at
62-54.
Clinging to a lead of either two or three points in the final 3:27,
the Bulldogs expanded the margin by making free throws and forcing
Illinois State into two turnovers.
Drake sealed the victory by scoring six of its last eight points at the free-throw line.
Emmenecker, who scored 19 points in a 79-73 home win against
Illinois State Jan. 19, collected 14 points, eight assists, four
rebounds and two steals.
Korver added 10 points, while junior forward Jonathan Cox grabbed a team-high six rebounds.
Drake finished with 10 three-point baskets, marking the 10th game this season in which the Bulldogs have made 10 or more treys.