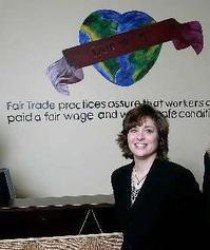 Christine McNunn
CONTACT: Cliffton Murove, ctm001@drake.edu
Christine McNunn, owner of the Fair World Gallery in West Des Moines, will speak at Drake University Tuesday, Feb. 12, in conjunction with the African Arts and Crafts Exhibit hosted by Drake's chapter of Students in Free Enterprise (SIFE).
McNunn's speech, which is free and open to the public, is titled "Art Across Oceans: Running an Import Business Fairly." The speech will start at 6 p.m. in the Weeks Gallery in the lobby of the Harmon Fine Arts Center, 25th Street and Carpenter Avenue.
Fair World Gallery's mission is to help artisans in the developing world by educating consumers and increasing the sales distribution of items produced in a fair trade manner.
The Fair Trade Federation uses the following criteria to define fair trade:

Providing a fair wage in the local context of the country
Providing opportunities to advance the skills of artisans
Providing everybody with equal opportunity for employment, especially the disadvantaged
Making sure the work does not deplete or permanently damage the environment
Establishing long-term trade relationships
Providing healthy and safe working conditions
Providing the public access to the businesses practices through Fair Trade Federation
Providing financial and technical assistance whenever possible
McNunn's speech is part of a SIFE project aimed at discussing global economic issues and how they affect developing economies. "We recognize that we are part of an increasingly global world and we are trying to educate young people on how best to succeed in such an environment," said SIFE President Cliffton Murove.
The African Arts and Crafts Exhibit in the Weeks Gallery continues through Friday, Feb. 15. The exhibit features items that students and faculty have brought back from travels to Uganda and other countries, such as wooden crafts, paintings, textiles, sculptures and other works of art.