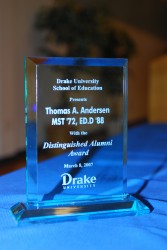 Former Dean of Drake University's School of Education Jamie Ferrare gave the keynote address at the school's annual Alumni Awards and
Senior Recognition Dinner on Thursday, Feb. 28.
The event, which was open to the public, began with a reception
at 6 p.m. in Parents Hall in Olmsted Center, 2875 University Ave.,
dinner at 6:30 p.m. followed by remarks by School of Education Dean Jan
McMahill and Ferrare's speech at 7 p.m.
Ferrare, president and senior consultant of Academic Search, Inc.,
and former associate superintendent of the West Des Moines Community
Schools, discussed "Education in the 21st Century: Progress and
Promise."
The evening also honored three outstanding alumni:
• Hope Bossard, director of curriculum and school improvement
for Gilbert Community Schools, as well as an adjunct professor of
education at Drake University. A resident of Radcliffe, Iowa, Bossard
received her master's and specialist degrees in education from Drake.
• Mary Gordon, former principal of Greenwood Elementary, Windsor
Elementary and Howe Elementary Schools in Des Moines. A resident of Des
Moines, Gordon received her bachelor's, master's and specialist degrees
in education from Drake.
• Neal Topp, a professor in the teacher education department at
the University of Nebraska at Omaha, where he was named the Varner
Professor by the University of Nebraska in 2000 and the Nebraska
Technology Professor of the Year in 1995. A resident of Omaha, Topp
received his bachelor's of music education and master's of educational
administration from Drake.
The event also honored members of the school's undergraduate
class of 2008. Each student was recognized and received a gift from
the college.
Ferrare led numerous searches for university administrators, faculty members and high-profile superintendencies.
"While at Drake University, Ferrare provided leadership to faculty
and staff in the School of Education in a time of great transition in
education," McMahill said. "He was an advocate for improved public
policy and an expert strategic planner."
As president of Academic Search, Inc., he directs searches for
presidents, vice presidents and deans for both private and public
universities and colleges, including church-affiliated schools and
independent liberal and fine arts institutions.
Prior to joining Academic Search and Drake University, Ferrare
served as associate executive director of the School Administrators of
Iowa. He also has taught elementary and middle school.