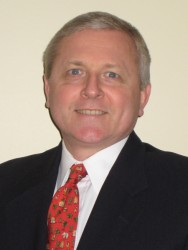 Bruce Foster
CONTACT: Sarah Pritchard, 515-271-2132, sarah.pritchard@drake.edu;
Tory Olson, 515-271-1834, tory.olson@drake.edu
Drake alumnus Bruce Foster will bring his expertise in
financial services back to campus to kick off the spring 2008 Executive in
Residence series in Drake's School of Management and Communication on
Wednesday, Feb. 27. The lecture, titled "The Sub-Prime Mortgage Mess: How
Did We Get Here and Where Are We Going?" is free and open to the public,
and will start at 7 p.m. in Sheslow Auditorium in Old Main, 2507 University
Ave.
"We're very excited to have
Bruce as our Spring 2008 Executive in Residence," said Charlie Edwards,
dean of the College of Business and Public Administration and School of
Journalism and Mass Communication.
"Because of his extensive
experience and knowledge of the mortgage banking and financial services
industry, he will be able to share with our students insight into a dynamic and
changing business. Bruce has been a good friend and supporter of the college
since his days at Drake, and it's great to have him in the classroom
again!"
The Executive in Residence series brings professionals
to campus to share their career experiences with business and journalism
students and to deliver a public lecture.
Foster will address the sub-prime mortgage crisis and answer
some key questions. "I intend to discuss: How did we get here? What
parties are potentially to blame? What are the ramifications to the U.S.
consumer and broader economy? Where do we go from here?" Foster said.
In addition, Foster will also visit several classes during
his visit to Drake.
When asked what advice he has for students he said,
"For students it's really about taking the ability to think critically and
apply that to problem solving; developing personal accountability; and reading
more. You cannot read enough. For me, Drake was instrumental in developing my critical
thinking skills."
He currently owns and operates a consulting practice
catering to corporate treasury functions and mortgage banking. The company
focuses on funding, liquidity, capital structure, asset and liability
management and financial engineering issues for the financial services
industry.
Prior to founding his own consulting practice in 2007,
Foster worked for Hong Kong Shanghai Bank Corporation (HSBC) and Household
International, which was acquired by HSBC in 2003.
Foster was a managing director at HSBC Securities, where he
specialized in sub-prime mortgage finance, and was also CEO of HSBC's wholesale
sub-prime mortgage originator, Decision One.
At Household International, he was assistant treasurer
responsible for capital markets transactions, which included $20 billion of
annual senior debt issuance and all foreign exchange and derivatives execution.
Earlier in his Household career, he was responsible for prime mortgage banking
operations. Under Foster's direction, the division originated approximately $25
billion in mortgage-backed securities each year and serviced more than $40
billion in loans.
A 1978 graduate of Drake University with a bachelor's in
business administration, Foster also holds an MBA from the University of
Chicago and is a CPA. He currently resides in Stamford, Conn.