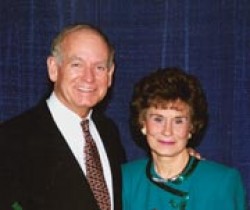 Former Iowa Gov. Robert D. and Billie Ray
New learning opportunities for senior citizens abound at Drake University, where many new classes are offered this spring through the Billie and Robert D. Ray Lifelong Learning Society.
Drake President David Maxwell is teaching one of the new classes, which focuses on "The Brothers Karamazov" by Russian author Fyodor Mikhailovich Dostoevsky. Maxwell, a widely published scholar on Russian literature, will introduce the book and discuss the author at the first class on March 11. After the class reads the novel, Maxwell will lead a group discussion on April 10 that explores the book's recurring themes of the moral struggles between faith, doubt, reason and free will.
Other new classes this semester are listed below:

A Brief Look at Nine Decades of Movie Actors
Astronomy: Ventures Beyond Our Solar System — Part II
Beyond Hubbert's Peak: What Can We Do When the Oil Runs Out?
In My House: A Look into Diverse Faith Traditions
Socrates: Outwardly a Monster — All Beauty Within
The Rhetoric of Fear
In addition, the RaySociety's popular series of classes on World War II will continue this spring with Iowans in the Greatest Generation Speak — Part III. The class will meet from 2 to 4 p.m. April 29, May 6, 13, 20 and 27, with the final session devoted to a big band concert presented by the Iowa Military Veterans Band.
The class is open to all World War II veterans, each of whom may bring a guest. Veterans who wish to attend the free class are asked to make a reservation by contacting Rena Wilson at 515-271-2120 or rena.wilson@drake.edu.



The entire class schedule for the spring semester is posted on the RaySociety Web site. To register for classes, fill out the online course registration form. Membership in the RaySociety costs $50 a year, plus an additional $25 per course fee.
The RaySociety takes its name from a pair of distinguished Drake alumni: former Iowa Gov. Robert D. Ray, who also served as the University's president, and his wife, Billie, a former teacher.
The RaySociety also sponsors numerous social events for members. The spring schedule is listed below:

Feb. 5, 7: Tour of Historic Jordan House, 10-11:30 a.m., West Des Moines.
March 13: Tour of Living History Farms, 1:30-3:30 p.m., Urbandale.
April 9: Bucksbaum Lecture by futurist Erik Peterson, 7:30 p.m., Drake Knapp Center.
May 6: RaySociety Dinner and Drake Symphony Orchestra concert. Details to be announced.
May: Tour of Ewing Park, famous for its beautiful lilacs. Details to be announced.
May 28: Year End Celebration and Annual Meeting, 3 p.m., Sheslow Auditorium in Old Main.
For a spring course schedule or additional information, call Teresa Bartschat at 515-271-1847 or visit the RaySociety Web site.