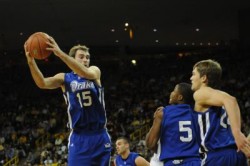 Adam Emmenecker pulls down a rebound during Drake's 19th straight victory.
The Drake men's basketball team, which stands 20-1, is ranked No. 15 in the latest Associated Press Top 25 college basketball poll and the USA TODAY/ESPN Coaches Poll. Drake moved up from No. 16 in last week's AP poll and No. 17 in the last USA TODAY/ESPN Coaches Poll.
The team is attracting national media coverage. Look for stories in the next issue of ESPN Magazine, Tuesday's USA Today sports section and Sunday's Washington Post (a column by John Feinstein).
View an audio slide show about both the men's and women's basketball teams by visiting the Drake home page and clicking on Drake Basketball: Building a Winning Legacy.
The men's team won its 19th straight victory with an 83-77 Missouri Valley Conference decision at Indiana State Saturday night. The Bulldogs shot a sizzling 56 percent in the second half, while handing Indiana State its first home loss in 10 games this season. 


Senior guard Adam Emmenecker played the full 40 minutes and scored a career-high 20 points. Sophomore guard Josh Young added 18 points for Drake, which kept alive the second longest active winning streak in the nation. Senior guard Leonard Houston, appearing in his 100th career game, netted 16 points and junior forward Jonathan Cox added 12 points. The winning streak is the fourth longest winning streak by a team in Missouri Valley Conference history.
Drake improved its record to 20-1, which is the best start in school history and the most victories at the school since the 1970-71 team, under coach Maury John, went 21-8. The 20 wins under coach Keno Davis are the most ever by a first-year head coach at Drake.
This also marked the first time ever that Drake opened the MVC season with a 11-0 record. Drake swept the season series from Indiana State for the first time since the 2004-05 season. The last MVC team to enjoy an 11-0 league start was Southern Illinois, which went 17-0 to start the 2003-04 season.
Drake hit 10 three-point baskets with Young making four treys and Houston adding three three-point baskets. 


Sophomore reserve forward Bill Eaddy scored six points to trigger a 17-6 run by Drake midway through the second half, which turned a 44-42 deficit into a 59-50 lead. Emmenecker added five points, including a three-point play during the surge. Junior forward Brent Heemkserk came off the bench to add eight points and six rebounds. 


Heemskerk and Eaddy filled in the void for senior forward Klayton Korver who was plagued by foul problems while playing a season-low 14 minutes. 


Indiana State, which shot just 29.1 percent from the floor in a 75-50 loss at Drake Jan. 9, made 10 of its first 11 shots. 


The Sycamores raced to a 26-16 lead behind the play of guard Todd McCoy who scored eight points. McCoy missed all three shots at Drake, making just two free throws in 17 minutes. 


A three-point basket by Young pulled Drake within 26-23. 


Forward Adam Arnold, who had missed the the previous two games because of a rib injury, came off the bench to hit two three-point baskets in the first half for the Sycamores who closed out the first period hitting 65.2 percent from the floor.
This is the fifth team in Drake history to win at least 20 games in a season joining the 1970-71 (21-8), 1963-64 (21-7), 1969-70 (22-7) and 1968-69 (26-5) teams.
Drake travels to Illinois State on Tuesday, Feb. 5, for its second of four tough road contests in the second half of the season. There will be no television coverage of the game, but streaming video will be available on the MVC Web site.