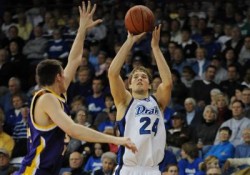 Klayton Korver's career high seven treys lifted the men's basketball team to its 17th straight win Saturday against Northern Iowa.
Drake Athletic Department officials disclosed Monday that the Bulldogs' next two home men's basketball games in the Drake Knapp Center against Creighton this Wednesday and Evansville Feb. 9 are sold out.
This marks the fifth and sixth consecutive home games that have been sold out in the Drake Knapp Center, 2525 Forest Ave.
Tickets are still available for the Bulldogs' Feb. 19 home game with Bradley, as well as the regular season home finale against Wichita State March 1.
Drake, which stands 18-1, is ranked No. 16 in the latest Associated Press Top 25 college basketball poll and No. 17 in the USA TODAY/ESPN Coaches Poll.
This is the third straight week that a Drake men's basketball player has been named the Missouri Valley Conference Player of the Week.
Drake senior forward Klayton Korver (Pella, Iowa) was honored after averaging 18.5 points, 5.5 three-point baskets, 2.5 rebounds and 1.0 steals while leading the Bulldogs to two comeback victories.

Korver shot 50 percent from floor (12-24), including 55 percent (11-20) from three-point range.
He had a team-high 14 points, and added four rebounds in the 68-60 overtime win at Creighton last Tuesday. All four baskets were three-pointers. On Saturday, he tied a career high with 23 points vs. UNI, while making a career-high seven treys — he was 7 of 8 from three-point range — in a 58-54 victory.
Korver is the fourth different Bulldog to win the league's Player of the Week honor this year.
Drake sophomore guard Josh Young was named MVC Player of the Week Dec. 10. Then junior forward Jonathan Cox and senior guard Adam Emmenecker were honored as MVC Players of the Week Jan. 14 and Jan. 21, respectively.
For more information about men' s basketball and other sports, visit the Drake Athletics Web site.