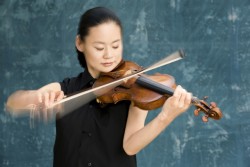 Midori plays the 1734 Guarnerius del Gesu "ex-Huberman" violin, which is on lifetime loan to her from the Hayashibara Foundation.
CONTACT: Lisa Lacher, 515-271-3119, lisa.lacher@drake.edu
World-renowned violinist Midori Goto will join Drake University faculty members Thursday, Jan. 31, in a roundtable talk on the role of music in the liberal arts and contemporary society. The talk, which is free and open to the public, will start at 2 p.m. in Sheslow Auditorium in Old Main, 2507 University Ave.
Participating with Midori on the interdisciplinary panel will be Athanasios Petridis, associate professor of physics; Sarah Plum, assistant professor of violin and viola; and Eric Saylor, assistant professor of music history.
"Midori is a great figure to address this issue," Saylor said. "As a child prodigy, she achieved international success while still very young, then took some time off to acquire a degree in psychology — so she understands more than many the different demands between the applied and liberal arts."
Midori will be in Des Moines next week for performances and a weeklong residence with the Des Moines Symphony. More information about her activities in Des Moines is available online.
Midori made her historic debut at the age of 11 when she was introduced as a surprise guest artist by conductor Zubin Mehta at the New York Philharmonic's annual New Year's Eve concert in 1982. Since then, she has established a record of achievement as a master musician, an innovator and a champion of the developmental potential of children.
Midori's performing schedule is balanced between recitals, chamber music performances and appearances with the world's most prestigious orchestras. Highlights of her 2007-08 season include bringing a unique project to Lincoln Center combining the music of Takemitsu, J.S.Bach and Schnittke; making her third all-new music recital tour; and six trips to Europe and three to Asia. In addition, she is assuming the position of chair of the strings department at the University of Southern California's Thornton School of Music.



In 1992 Midori founded Midori & Friends, a non-profit organization in New York that brings music education programs to thousands of underprivileged children each year. She also established Music Sharing, based in Japan, and Partners in Performance, based in the United States, to bring music closer to the lives of people who may not otherwise have involvement with the arts.
Her commitment to outreach extends to her work with young violinists in master classes all over the world, to her University Residencies Program, to her Orchestra Residencies Program and to her positions as the Jascha Heifetz chair and co-director of the Midori Center for Community Engagement at USC.