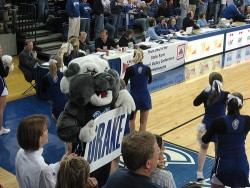 Spike is a towering figure at Drake basketball games. The snow sculpture of Drake's mascot will be carved out of a 10-foot-tall block of snow.
CONTACT: Kelly Donovan, ked005@drake.edu;

Lisa Lacher, 515-271-3119, lisa.lacher@drake.edu
Drake University students will wield saws, machetes and even barbed wire to carve the figure of Drake mascot Spike the Bulldog out of a 10-foot-tall block of snow in the 2008 Iowa College and University Snow Sculpting Contest.
Up to 20 colleges and universities will compete in the 24-hour contest to build the best school mascot snow sculpture and to raise money for charity at Sleepy Hollow Sports Park, 4051 Dean Ave. The event, sponsored by Grand View College as part of the Des Moines Winter Games, will begin at 6 p.m. Friday, Feb. 1.
The snow sculptures will be judged at 6 p.m. Saturday, Feb. 2. First prize will be a traveling trophy and $200 that will be donated to the charity of the winner's choice. A party in a heated tent for contest participants will immediately follow the judging.
All money raised by the Drake team will be donated to the Central Asia Institute, which provides community-based education programs, especially for girls, in remote mountain regions of Central Asia. Those who wish to contribute may donate online by visiting the institute's Web site, then send an e-mail message to ked005@drake.edu to inform the team of the donation.
Kelly Donovan, a junior from Rockford, Ill., who is majoring in sculpture and graphic design, serves as captain of the Drake team. Other team members include sculpture majors Anthony Roark, a junior from Jefferson, S.D., and Nicki Werner, a junior from St. Louis.
Donovan is an experienced snow sculptor who participated in the 2004 and 2005 Illinois Snow Sculpting Competition in the high school division.
"I love being outside in the snow working with a material I normally wouldn't get to use for art," she said. "You get a little delirious being in the cold and snow all day and night, especially when you are wielding a machete."
The design of Spike will probably be playful and simple because of the time constraints of the competition, Donovan said.
"The block of snow is huge and dense," she added. "We will be using a number of tools, some regular saws and others we make, including a line of barbed wire with a handle on each end.
"The dog we create will be towering above us even as we sculpt it. Snow sculptures are amazing to me because of the sheer size — huge works of art created in a very small amount of time. Competitions like this are great for participants and also viewers who can come look at the process and progress."



Additional information about the Snow Sculpting Contest is available online.