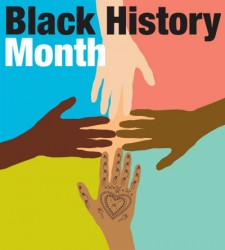 From food and music to discussions on society and history, Drake University will celebrate Black History month throughout February with numerous events organized by the Coalition of Black Students. The theme for this year is "An American History: Tracing the Footprints One Step at a Time."
Each event is open and free to the public, unless stated.
Below is a listing of events:
Sunday, Feb. 17
Skate Night, 8 p.m., Skate North, 5621 Meredith Drive
Cost is admission and skate rental.
Monday, Feb. 18

Black Casualties of War on Crime, 7 p.m., Bulldog Theater, Olmsted Center
George Wilson will talk about war in crime in the Des Moines community.
Wednesday, Feb. 20

Black Male/Female Authenticity, 7:30 p.m., Olmsted 310/311, Olmsted Center
Nathilee Caldeira, associate research scientist at Columbia University, and Rasheed Ali-Cromwell, an attorney from Washington, D.C., will address how the media and society portray the black male and female.
Friday, Feb. 22

Community Service, 2-4 p.m., YMCA, 1611 11th Street
Work with children at the YMCA. Meet in Olmsted at 1:45 p.m. to car pool.
Sunday, Feb. 24

And the Beat Goes On, 5 p.m., Bulldog Theater, Olmsted Center
Wanda Everage, vice provost for student affairs and academic excellence, will be the host of a talk-show style meeting and will interview alum who have contributed to CBS.
Wednesday, Feb. 27

Black History Jeopardy, 7 p.m., Pomerantz Stage, Olmsted Center
Friday, Feb. 29

Gospel Explosion, 7 p.m., Bulldog Theater, Olmsted Center
The evening will feature keynote speaker the Rev. Darius L. Thomas, youth pastor of The Shekinah Youth Church of The Greater Allen A.M.E. Cathedral of New York. Local gospel groups will also perform.
For more information contact Jharmaine Boyd at jnb004@drake.edu.