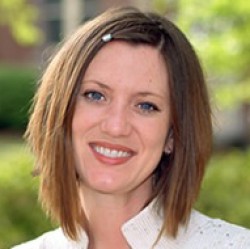 Susanna Childress
CONTACT: Jennifer Perrine, 515-271-4161, jennifer.perrine@drake.edu
Award-winning poet Susanna Childress will open the spring
2008 Drake University Writers and Critics Series on Monday, Feb. 11. Childress
will read and discuss her poetry at 7:30 p.m. in the Cowles Library Reading
Room in Cowles Library, 2725 University Ave. The event is free and open to the
public.
Childress has received numerous awards including the Life
Career Poetry Award from the National Society of Arts and Letters, the
Association of Writers and Writing Programs Intro Journals Award, Academy of
American Poets Award, Foley Poetry Award and Roy Crane Excellence in Creative
Arts Award.
"Jagged with Love," her first volume of poems, was
chosen by Billy Collins as the winner of the 2005 Brittingham Poetry Prize, and
by Southern Illinois University for the Devil's Kitchen Literary Award.
Childress holds a doctorate in English from Florida State
University. She currently teaches courses at Hope College in Holland, Mich., on
the ideas and practices of social change.
More upcoming Writers and Critics events:
Feb.
26: Tim Bascom, 7:30 p.m., Cowles Library Reading Room.
March
27: Alan Nadel, 7:30 p.m., Cowles Library Reading Room.
April
8: Drake Faculty Reading: Fred Arroyo, Erica Anzalone, 7:30 p.m., Cowles
Library Reading Room.
April
17: Drake Writers' Night, 7 p.m., Medbury Honors Lounge.
April
30: Des Moines National Poetry Festival 2008 Poet Li-Young Lee, 8 p.m., Sheslow Auditorium.
The series is sponsored by Drake's English Department and
Center for the Humanities. For more information, contact Jennifer Perrine at
515-271-4161 or jennifer.perrine@drake.edu.