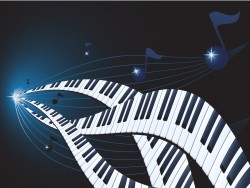 CONTACT: Lisa Lacher, 515-271-3119,
lisa.lacher@drake.edu
The Drake University Community School of Music will present a free
program of music for two pianos featuring DUCSOM instructor Robert Lien
and guest artist Ray Songayllo on Sunday, Feb. 3. The concert, which is
free and open to the public, will start at 2 p.m. on the Jordan Stage
in Sheslow Auditorium in Old Main.
The program includes "Scenas Infantis" (Memories of Childhood) by
Octavio Pinto, Andante and Fugue, K.402 by W.A. Mozart, "Six Pieces
from Mikrokosmos" by Béla Bartók, Rondo in C Major by Bedrich Smetana
and "Porgy and Bess Fantasy" by George Gershwin and arranged by Percy
Grainger.



Lien, a native of North Dakota, studied piano through his
elementary and high school years, eventually completing bachelor
studies at Concordia College and North Dakota State University. He came
to Drake University for graduate studies in piano performance and
started teaching in the Drake University Community School of Music in
1969. His teachers at Drake were John Wannamaker and Kenneth Drake.
He is an active performer and is a member of several ensembles,
including a clarinet-piano duo and The Wild Rose Trio (violin, cello,
piano), which he founded. In addition, he is the organist at Capitol
Hill Lutheran Church in Des Moines.
Songayllo earned his bachelor's and master's degrees in piano from
Northwestern University. He studied at Aspen, in New York, with
Alexander Uninsky and Grant Johannesen, and in Boston with Alexander
Borovsky. He has performed throughout the U.S. and has had two Weill
Hall appearances. In 1990 he made his European debut with two solo
recitals in Geneva under the auspices of Concerts Atlantique of New
York. He also has performed in France, Austria, England, Ireland and
Norway.
He is a founding member of the Iowa Composers Forum and was
recipient of the 1993 Pyle Commission for his Piano Quintet. He taught
at the college level for 27 years and currently teaches piano at the
Temple of Performing Arts in the Des Moines Symphony Academy. As a
pianist and arranger, Songayllo is a member of the international
chamber group, The Midgard Ensemble, which has presented programs in
Minneapolis for the past five years, and two concerts in England last
August.