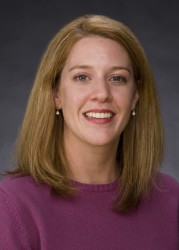 Melissa Mead Hull
CONTACT: Tory Olson, 515-271-1834, tory.olson@drake.edu

Melissa Mead Hull, a 2000 graduate of Drake University, is one of
the first pharmacists in the nation to be awarded clinical lipid specialist
credentials by the Accreditation Council for Clinical Lipidology.
"It is really exciting that many people practicing
different specialties can now help manage risk for cardiovascular disease with
these credentials," Hull said. "This one exam allows for
non-physicians in multiple specialties to gain clinical lipid specialist
credentials."
In order to obtain CLS certification, Hull completed a
series of continuing medical education requirements and passed a rigorous
examination. The ACCL, a nonprofit organization, assesses qualifications and
certifies knowledge in clinical lipidology to reduce morbidity and mortality
from health conditions leading to atherosclerosis and
related diseases.
"It really shows that
pharmacists have experience and expertise in lipidology, and helps us gain
trust with patients and referring providers," said Hull, a pharmacist in
Seattle.
"As the field of pharmacy continues to progress,
technology advances and pharmacists perform more non-dispensing roles, other
professions are recognizing what pharmacists can do to help the health-care
team by having credentials in these areas of expertise," she added.
"What pharmacists can bring to the team is really exciting, and other
pharmacists are bound to take the exam to get the certification."
Since 2005, Hull has been a pharmacist in The Polyclinic's
Lipid Clinic, which works to educate and manage conditions for patients who
have had a heart attack or stroke, and for those who want to prevent one.
In addition, she has worked in The Polyclinic's
Anticoagulation Clinic since 2002. The Anticoagulation Clinic helps educate
patients taking blood-thinning medications on how to maximize the medication's
effectiveness to reduce blood clots and decrease bleeding complications.
The Polyclinic studies the results of their program that
aims to reduce the instances of heart attacks and strokes by giving a more
thorough diagnosis, treatment and follow-up with patients who are at risk of
these events.
Hull is a licensed pharmacist with the Washington State
Board of Pharmacy and a certified anticoagulation provider recognized by the
National Certification Board for Anticoagulation Providers. She has
prescriptive authority protocols with the state pharmacy board for management
of anticoagulation and dyslipidemia.
After graduating from Drake with a Doctor of Pharmacy
degree, she completed a pharmacy residency at Overlake Hospital Medical Center
in Bellevue, Wash.; was a pharmacy preceptor for
pharmacy students at the University of Washington and Washington State
University; and an adjunct faculty member at Seattle's University College of
Nursing. She also has certification in lipid management from the
University of Southern Indiana.