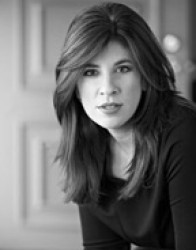 Ann Cravero
CONTACT: Lisa Lacher, 515-271-3119, lisa.lacher@drake.edu
Ann Cravero, assistant professor of voice and opera director at Drake University, will perform Sunday, Jan. 27, in New York City's Carnegie Hall as one of the first place winners of the Barry Alexander International Vocal Competition.
Cravero of West Des Moines will make her Carnegie Hall debut at the Winners' Recital in Weill Recital Hall. Tickets are available at the Carnegie Hall box office and online.
The competition drew contestants from around the world who were judged on voice quality, musicality, technique, diction and artistic interpretation.
In addition to the Carnegie Hall recital, Cravero and the other winners will participate in a seminar on the Business of Music on Saturday, Jan. 26. The seminar will feature managers, agents, publicists and recording industry executives answering questions and offering advice on pursuing professional music careers.
The competition is named after Barry Alexander, president and CEO of Alexander & Associates, a public relations firm he launched after a 20-year career as an opera singer. With a roster of clients that includes major artistic foundations and corporations worldwide, he continues to use his experience as a classical musician to guide the careers of a number of classical artists and musical institutions.
The competition offers winners the opportunity to perform at Carnegie Hall, Alexander said, because it "goes a long way toward giving a singer both cachet and artistic credibility, as well as a means of distinguishing one's self among an ever-increasing array of singers."
Alexander also noted that the competition helps draw attention to the winners. "We work very hard to nurture careers as best we can, in an effort to provide the greatest amount of exposure," he added. "Press releases go out to major newspapers throughout the world announcing all the winners, a commercial recording is made of the Winners' Recital and a commemorative book is made featuring all the winners."
An active mezzo-soprano recitalist and soloist, Cravero joined Drake as a full-time faculty member in 2003. She has performed a wide array of roles in various operas and participated in master classes with Frederica von Stade, Michéle Crider and world-renowned mezzo-soprano Rinat Shaham.
As director of Drake Opera Theatre, Cravero most recently directed Gilbert and Sullivan's "The Pirates of Penzance" and Copland's "The Tender Land." She also directed Britten's "The Little Sweep" with the City Opera Co. of the Quad Cities, as well as producing and directing the one-act opera "Fortune's Favorites" at the University of Iowa.
Cravero holds a Doctor of Musical Arts and a Master of Musical Arts in vocal performance from the University of Iowa, which awarded her the Donald Walker Vocal Scholarship. She received her Bachelor of Music Education from Bradley University, where she won the university's Piano Concerto Competition and received the Academic Achievement Award for music education. Her teachers include Kerry Walters, Elizabeth Ecklund, Emma Small, Kathryn Eberle, Stephen Swanson, Sally Stunkel (directing) and Edward Kaizer (piano).