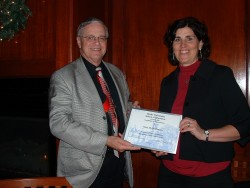 David Darnell presents a certificate of appreciation to Nita McWilliams.
Most students rely on their friends and family for moral support while
they work toward their degrees. When Richard McWilliams graduated from
Drake with his Specialist Degree in Educational Leadership last August,
part of the credit for his success went to his wife, Nita.
"I started my first degree at Drake back in 1999 to get my master's
for principal licensure," McWilliams said. "I was assistant principal
at Grandview Park Baptist at the time. It took me until December 2002
to complete that program by taking classes on the weekends and in the
summers."
Adding to the challenge of balancing his studies with a full-time
administrative position, however, is the fact that McWilliams is
legally blind.
After completing his master's degree, McWilliams decided to pursue
a Specialist Degree in Educational Leadership to receive his
superintendent licensure. He finished the program in August and is
currently the superintendent of Grandview Park Baptist Schools in Des
Moines, where he also serves as principal for the 7th through 12th
grades.
"I don't drive, so my wife, Nita, drove me to all of my classes and
helped with my readings," McWilliams explained. "Drake has been very
good to enlarge all of my materials. Bonnie Porter, the assistant in
the education leadership department, would even bring materials out to
my home or school for me."
"Nita McWilliams was a tremendous help, both to Dick and his
professors," said David Darnell, professor of educational leadership.
"She not only got him to and from class, she often discussed classes
and readings with him. Dick is very bright, worked hard and was a model
student throughout the program. Nita's partnership was a key element in
that success. These are two terrific people. We are proud to call them
Bulldogs!"
In December, Professor Darnell and his wife treated the McWilliams to a
congratulatory dinner and presented Nita with a special certificate of
appreciation.