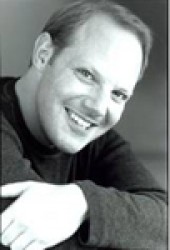 Director Tony Humrichouser
The premiere production of "Caucus! The Musical" features former Drake faculty member Tony Humrichouser as director, and the cast and artistic team include several Drake alumni and a current student. Humrichouser
directed Drake's Musical Theatre Program from 2003-07 and now serves as
director of the Musical Theatre Program at the University of Missouri
at Kansas City.



"Caucus! The Musical," which runs through Sunday, Jan. 13, at the State Historical Museum Theatre, offers a hilarious, irreverent and oftentimes politically incorrect look at the Iowa caucuses and how residents of the Hawkeye state play a crucial role in the presidential nomination process. The full-length musical, which drew national and international media attention during the Iowa caucuses, features 20 characters and 12 original songs, including "Anything for a Vote," "It's Time To Go To Iowa" and "The Tough Question Sidestep."


Fort Dodge native Robert John Ford, who wrote the book, music and lyrics, is an award-winning playwright, composer and lyricist whose theatrical works have been produced in New York, California, Alaska, Minnesota, New Hampshire and Iowa. In fact, his adaption of "Caucus! The Musical" titled "Primary, Primary," is playing in Portsmouth, N.H.




"Caucus! The Musical" follows an Iowa farmer and his family through the Iowa caucuses
as well as the presidential candidates on the campaign trail.
The
cast spotlights Drake graduates Emily Bida, who plays Kristin Wise, the
daughter of local farmers Eldon and Kathleen Wise; Jim Benda, who
plays Reverend Stanley Jensen, a conservative presidential candidate;
and John Robinson who plays Congressman Benjamin Goldman, an
ultra-liberal presidential candidate.
Bida
is a 2004 Drake graduate and senior project editor at The Des Moines
Register. Her local stage credits include Soupy Sue in "Urinetown:
The Musical"; Irene Malloy in "Hello, Dolly!" and Jenny in "Quilters."

She also played the role of Katrina Van Tassel in "The Legend of Sleepy Hollow" for Arizona Musical Theatre Institute and has performed in numerous shows at Waimea Community Theatre in Hawaii.

Benda,
who earned his bachelor's degree from Drake in 1973 and his law degree
from Drake in 1976, has appeared in more than 30 Des Moines
productions, including a dozen shows at the Des Moines Playhouse (most
recently, "Hello Dolly") and nine shows at StageWest (most recently,
"The Women of Lockerbie"). He works at Bank of America as an attorney
and vice president.

Robinson, who attended Drake's School of Journalism and Mass Communication in the 1990s, works for Cinequipt in Des Moines. He was awarded Iowa Motion Picture
Association's Best Actor for the short film "Money Trouble." He also has performed in
"The World's Largest Aluminum Foil Ball" at the Iowa and Minnesota
Fringe Festivals and played the role of Dave Bukatinsky in "The Full
Monty" and Growltiger in "Cats."
Drake
also is well represented on the artistic team, which includes
choreographer Jenn Miller, a recent Drake graduate who directed and
choreographed her own student theatre production while at Drake titled
"Dancin' Through Life."

Among the musicians on the artistic team are Drake
1984 graduate Francine Griffith and Drake senior Amanda Nunn. Griffith
plays keyboards in the musical and is the staff accompanist at Drake
and piano instructor at Drake's Community School of Music. Nunn plays
the clarinet and other reed instruments in the show and is working to
complete her undergraduate studies in clarinet performance and music
education.

For more information about the
musical or to get tickets, visit the Web site. This musical contains language and
subject matter that may not be suitable for children under the age of
13.