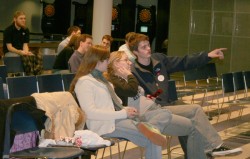 Brittany Swanson, Aliza Rosenthal and Matt Patterson watch Barack Obama's victory speech.
Drake students from Illinois, Kansas, Oregon and other states returned to Des Moines Thursday to make their voices heard in the first round of the presidential selection process.
After expressing their candidate preferences at the Iowa caucuses, approximately 30 students gathered at the Pomerantz Stage in Olmsted Center to munch on pizza as they discussed their experiences and watched the returns.
Matt Patterson, a first-year student from Leawood, Kan., said he came back for the caucuses "because I'm really concerned about the direction the country is going. I feel it's my responsibility to do what I can to change that and to see that people my age have a voice in the process."
Patterson, who is majoring in biochemistry, cell and molecular biology, backed Barack Obama in the Precinct 45 Democratic caucus at Olin Hall, which received live coverage by Fox News. "I was very satisfied with Senator Obama's performance," he said. "It proves he has real potential to be the Democratic nominee."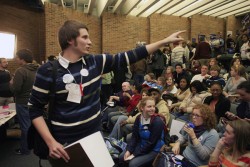 Drake students turn out in force for the Precinct 45 Democratic caucus in Olin Hall.
Another Kansas resident, Robb Krehbiel of McPherson, described his
caucus experience at Olin Hall as "extremely traumatic but extremely
exhilarating."
Krehbiel, a first-year student with a double major in environmental
science and politics, first supported for Chris Dodd. When Dodd didn't
attract enough voters to be a viable candidate, Krehbiel joined the Joe
Biden group, which still needed more supporters to be viable. So, then
he moved to the uncommitted group and found himself besieged by
supporters of several candidates.
"I had three different people pulling at me and a video camera
staring me in the face," Krehbiel said. "I kind of freaked out. I
wasn't prepared for that sort of chaos."
Krehbiel said he eventually ended up supporting Bill Richardson,
who garnered one delegate. "Nothing could have prepared me for this
experience," he added, noting that his home state of Kansas tends to be
"predictably and sedately Republican."
Despite the chaos, Krehbiel said, "I'm very glad I came back for this. I would probably do it again."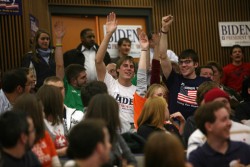 Voters raise their hands to be counted in the Olin lecture hall.
Chelsea Hicks, a sophomore from Portland, Ore., returned to Des
Moines to work for the British Broadcasting Corp. and to take part in
the caucuses. Hicks, who has a double major in marketing and English
writing, helped set up and conduct radio interviews at various sites in
the Des Moines area.
"It was a great learning experience," she said. "Just seeing all
the media outlets converging on Des Moines with all their people and
equipment was amazing."
Drake opened up Olmsted Center so that students from out of state
would have a place to stay if they traveled to Des Moines for the
caucuses.
Amy Benes, a junior from Downers Grove, Ill., was one of 14
students who spent the night in sleeping bags at Olmsted following the
caucuses. She pitched in to help with voter registration at the Olin
Hall caucus and served as the official counter.
"I'm really glad I made the road trip and was involved in this process," she said afterward. "It was an exciting experience."