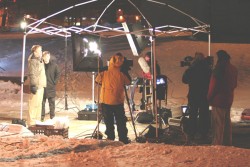 'Nightline' Anchor Terry Moran prepares to interview George Stephanopoulos at Drake.
ABC's "Nightline" was anchored from the frigid, wind-swept Wifvat Plaza at Drake University on Tuesday, Jan. 1.
Terry Moran announced that the temperature was just 6 degrees as he stood in front of the brightly illuminated Drake Knapp Center, anchoring the national news program. "Nightline" focused on the final days of the presidential campaigns leading up to today's Iowa caucuses.
Moran said that despite the cold weather the political battle in Iowa is a "barn burner – too close to call on both sides."
There were two Drake connections to "Nightline." Moran's brother, Rick, graduated from Drake with a bachelor's degree in theatre arts in 1976. He's now a writer and online political commentator in Algonquin, Ill.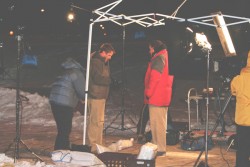 ABC's Glen Dacy directs "Nightline" newscast with Terry Moran on Drake's campus.
Another Drake graduate, Glen Dacy, a producer for the Chicago Bureau of ABC News, directed the live shot from the Drake campus.
Dacy got his start in broadcasting as a student intern for CBS News during the 1984 Iowa caucuses. "I've come full circle," he said after returning to Des Moines to help cover the 2008 Iowa caucuses for ABC News.
Three Democratic caucuses will be held on the Drake campus tonight – two in Harvey Ingham Hall and one in Olin Hall. Fox News is scheduled to broadcast live segments from the Olin Hall caucus and "The News Hour with Jim Lehrer" is expected to cover portions of the caucuses in Harvey Ingham Hall.