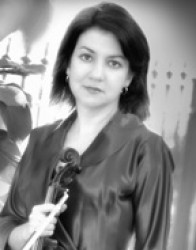 Sarah Plum
CONTACT: Sarah Plum, 515-271-3736, sarah.plum@drake.edu;

Tory Olson, 515-271-1834, tory.olson@drake.edu
Sarah Plum, assistant professor of violin and viola at Drake University, will perform a violin recital with pianist Timothy Lovelace at 8 p.m. on Wednesday, Jan. 23, on the Jordan Stage in Sheslow Auditorium, 2507 University Ave.
Lovelace is an associate professor of piano at the University of Minnesota and has played with Plum for more than 15 years.
Plum will begin the performance with an unaccompanied violin piece by Johann Sebastian Bach titled "Chaconne," from his second Partita in d minor. "Audiences really love this piece because it has a direct emotional impact," Plum said.
"It is interesting that he didn't write anything that was specifically dedicated to his wife after her death, but some scholars now think that the 'Chaconne' was written as a requiem," Plum added. "There are various bits of evidence to support this theory, one of which is that the letters of her name are embedded in the music."
In addition, Plum will play the Fantasies of Arnold Schoenberg and Franz Schubert, as well as a sonata by Beethoven.
"The Schubert Fantasie is the one of the most difficult pieces for the violin," Plum said. "The Beethoven Sonata is part of a major project, because Tim and I are planning to perform all 10 of the Beethoven Sonatas at Drake in three evenings next year."
After a distinguished career as a performer, Plum was appointed visiting assistant professor of violin and viola at Drake last summer. She won the first prize in the International Stulberg Competition in 1984 and has appeared on stages in the U.S. and abroad as a soloist and chamber musician.
She received a bachelor's and master's degree from the Julliard School and received a DMA from the State University of New York at Stony Brook. Some of her major teachers were Szymon Goldberg, Joyce Robbins, Dorothy Delay and David Cerone.
Plum has also played in European orchestras both as a leading and section player. She has played with the West German Radio Symphony Orchestra Cologne as well as the North German Radio Orchestra and Saarlaendischer Rundfunk Symphony Orchestra, among others.
In Europe, she played under conductors including Semyon Bychkov, Andre Previn, Christoph Eschenbach, Kurt Masur and Mariss Jansons.
Touring Europe, North and South America, she performed at international venues and festivals. Her orchestral experiences also included principal and concertmaster positions in the London Philharmonic, Saarlaendisches Staatstheater, Kristiansand Symphony Orchestra and the Kammerorchester Pforzheim.
In addition, Plum has played at international festivals such as Archipel, Ars Musica, the Luzern Festival and the Festival d'Automne Paris and with groups such as the Ensemble Moderne, Musik Fabrik Nord Rhein Westfalen, Nieuw Ensemble Amsterdam and Ensemble Contrechamps.
For more information about Plum, visit the Drake University Department of Music Web site. Additional information about Lovelace is available online.