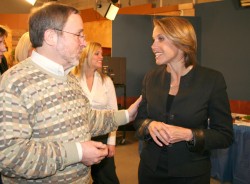 Dennis Goldford and Katie Couric discuss the Iowa caucuses.
The nationally syndicated NPR program "On Point" devoted two hours
of programming to the Iowa caucuses on Thursday, Jan. 3, with Drake
Professor of Politics Dennis Goldford providing historical context and
political analysis.
The entire program, which included a roundtable discussion among caucus-goers, was broadcast live on Iowa Public Radio and can be heard via on-demand audio on the NPR
Web site.
Professor Goldford has given hundreds of interviews about the 2008
Iowa caucuses to national and international media outlets in the last
year. He also serves as political analyst for KCCI-TV in Des Moines,
where he discussed the caucuses with CBS Evening News Anchor Katie Couric Thursday afternoon when she
toured the local CBS affiliate.
National and international media outlets also have conducted myriad
interviews about the Iowa caucuses with Arthur Sanders, professor of
politics and chair of the Department of Politics and International
Relations; and Rachel Paine Caufield, associate professor of politics
and coordinator of Drake's Iowa Caucus Project.
Sanders taught a class this fall on the Presidential Nomination Process that required students to complete an internship with a presidential campaign or other caucus-related organization. One of his students, Jill Shesol, a junior from Mission, Kan., was featured in a front-page article in Thursday's USA Today under the headline "In the political trenches, volunteers toil for votes." The article is available online.