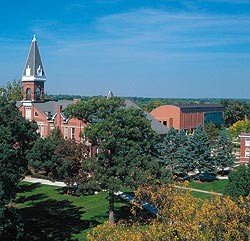 Drake is currently seeking comments from the public about the University in preparation for a comprehensive evaluation visit Feb. 4-6, 2008, by a team representing the Higher Learning Commission of the North Central Association of Colleges and Schools.
Drake University has been accredited by the commission since it was established in 1913. The team will review the institution's ongoing ability to meet the commission's criteria for accreditation.
Comments, which must be received by Jan. 6, 2008, should be sent to the address below:
Public Comment on Drake University

The Higher Learning Commission

30 North LaSalle St., Suite 2400

Chicago, IL 60602
Comments must address substantive matters related to the quality of the institution or its academic programs and must be in writing and signed; comments cannot be treated as confidential.