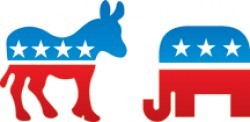 CONTACT: Lisa Lacher, 515-271-3119,
lisa.lacher@drake.edu
;
Julia Rutz, 515-226-8774,
rutz@IowaPolitics.com
Drake University will host a public forum on Friday, Dec. 7,
featuring a panel of journalists and political analysts who will share
their views on the upcoming Iowa caucuses and assess the impact of
media coverage of the presidential campaigns in Iowa.
The forum, which is free and open to the public, will start at
11:30 a.m. in Levitt Hall in Old Main, 2507 University Ave.
Reservations are required due to space limitations. For reservations,
call 515-271-3747 or send an e-mail to iowacaucuses@drake.edu. Free
parking will be available in Drake parking lots at 26th Street and
University Avenue and 25th Street and Carpenter Avenue.
Chris Dorsey, bureau chief of IowaPolitics.com, will moderate the discussion. The panelists will include:

Rick Pearson, a political writer for the Chicago Tribune
David Price, chief political reporter for WHO-TV
M.E. Sprengelmeyer, Iowa bureau chief for the Rocky Mountain News
Dennis Goldford, professor of politics at Drake University
J. Ann Selzer, president of Selzer and Co. Inc. and director of the Iowa Poll for the Des Moines Register
The forum is part of the of "Cookies and Conversation" series
co-sponsored by Drake and IowaPolitics.com, a nonpartisan news
operation offering a free Web site at www.IowaPolitics.com.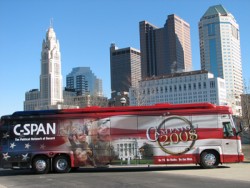 Also on Friday, Dec. 7, the C-SPAN Campaign 2008 Bus will visit Drake's
campus. The bus will be open for tours from 9:30 a.m. to noon in the
Olmsted Center parking lot at 29th Street and University Avenue.
The 45-foot, state-of-the-art mobile production studio is traveling
the nation on its inaugural "Road to the White House" tour. The bus
promotes and enhances C-SPAN's extensive political coverage by
appearing at major political events in battleground states, visiting
state capitals, colleges and schools, and providing opportunities for
C-SPAN staff to meet with local political leaders and journalists,
candidates and voters on the campaign trail.