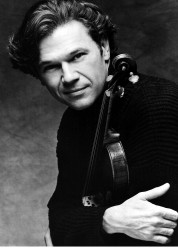 Gary Kosloski
CONTACT: Sarah Plum, 515-271-3736, sarah.plum@drake.edu;

Lisa Lacher, 515-271-3119, lisa.lacher@drake.edu
Drake University's Music Department will present its first StringFest on Saturday, Dec. 8. The festival will offer a day of master classes for high school and college students studying violin, viola and cello, as well as a faculty recital featuring special guest Gary Kosloski, a distinguished teacher and violinist from New York.
"This is a great way to give kids a chance to play and receive feedback from a renowned teacher and musician," said Sarah Plum, Drake visiting assistant professor of violin. "It's also a great opportunity for students to learn about Drake and its music programs."
The first session of master classes will start at 10:30 a.m., followed by another round of master classes beginning at 2 p.m. The master classes, which are free and open to the public, will be held in the Performing Arts Hall and Monroe Recital Hall in the Harmon Fine Arts Center, 25th Street and Carpenter Avenue. Members of the audience are invited to listen and ask questions.



Kosloski will join Plum and Ashley Sandor Sidon, Drake assistant professor of cello, in performing a free faculty recital at 1 p.m. on the Jordan Stage in Sheslow Auditorium in Old Main, 2507 University Ave. They will be assisted by pianist Timothy Lin of Grinnell College.
Kosloski holds a doctorate in music performance from Indiana University, where he was taught from renowned teacher Josef Gingold. Kosloski is a founding member of the Elysian Trio, which has been acclaimed by the New York Times for its "musical vitality and intelligence."
In addition, Kosloski has served as concertmaster and soloist with the Ohio Chamber Orchestra, the Cleveland Ballet Orchestra and the Cleveland Chamber Symphony. He has participated in the Mainly Mozart Festival, the St. Barth's Festival and the Sunflower Music Festival.
Registration for students for the master classes is $20. For more information and registration, visit www.drake.edu/artsci/Music_Dept/cello.html or call 515-271-2887.