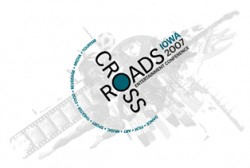 CONTACT: Lisa Lacher, 515-271-3119,
lisa.lacher@drake.edu
;
Piotr Jakubowski,
pj0001@drake.edu
Students in Drake University's Ad Club have the opportunity to create and pitch advertising campaigns for local bands at the "Crossroads Design Competition" as part of the 2007 Crossroads Entertainment Conference Showcase.
The showcase of campaigns will begin at 6 p.m. Wednesday, Dec. 5, at People's Court, 216 Court Ave., with the winning campaign announced later in the evening. The event is free and open to the public with registration required.
The competition consists of six small teams of Drake advertising and marketing students. Each team will create a promotional campaign for a local band from the Des Moines Music Coalition. The bands plan to use the campaigns to sell their music to record label representatives.
"This is a great opportunity for students to get real world experience, working with a real client to create actual products," said Piotr Jakubowski, a senior marketing and creative advertising major from Jakarta, Indonesia. Jakubowski also serves as president of the Ad Club.
Jakubowski was introduced to a Crossroads Conference representative in August, where the idea for the student competition was conceived. He took the idea back to the Ad Club, where it was developed by the executive council and shared with Ad Club members. Jakubowski now serves on the planning team for the competition with Kathryn Dickel of Swaelu Media and Abbey Robertson of Red Bull, a conference sponsor.
The six campaigns will be judged by a panel, which includes Jason Walsmith, guitarist and vocalist for The Nadas, and Tom Kettler, senior vice president and executive creative director of The Integer Group – Midwest.
Each team of students is allotted a budget of $200, granted by Drake's Student Senate, and given 20 minutes to present the campaign to the panel of judges. In preparing for the judging, the students are required to present status reports to the competition organizers and clients every two weeks, keeping the bands updated with the work the teams are accomplishing. If the client is unsatisfied with the team's progress, the client may terminate the team.
The Crossroads Entertainment Conference, in its second year, brings together professionals in both the for-profit and non-profit sides of the entertainment industry to network, gain professional development through seminars and celebrate growth and achievement of the industry in Iowa.
For more information, contact Piotr Jakubowski at pj0001@drake.edu. To register, visit the iowatix.com Web Site and click on the Crossroads Conference link on the homepage.