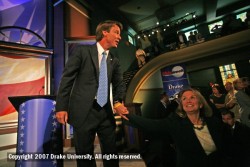 John Edwards and wife Elizabeth hold hands during a break at ABC's Democratic Presidential Debates held at Drake in August.
Drake University will host 2008 democratic presidential candidate John Edwards on Saturday, Dec. 1, for a forum on "Every Child Matters."
Former North Carolina Sen. Edwards will meet with Drake students, faculty and staff at 10 a.m. in Levitt Hall in Old Main, 2507 University Ave. The event is free and open to the public.