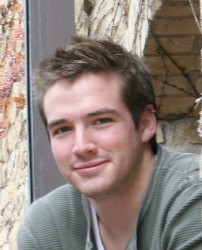 Colin McDonald
CONTACT: Lori Blachford, 515-271-3050, lori.blachford@drake.edu;

Tory Olson, 515-271-1834, tory.olson@drake.edu
Drake University graduate Colin McDonald was among the top 20 winners for college feature writing in the national William Randolph Hearst Foundation's Journalism Awards Program.
McDonald, a native of New Lenox, Ill., placed 20th for his article about the Des Moines dating scene titled "When Lights Go Down on the City." The article was published in the Fall 2006 issue of 515 magazine, an annual Drake magazine capstone project for seniors about the Des Moines area. To download the article, please use this link.
"I am honored to be placed in the top 20 in the Hearst Journalism Feature Writing Competition," McDonald said.
McDonald, who received a bachelor's degree in magazine journalism and a bachelor's degree in English writing last May, is pursuing a master's degree in creative writing at Hamline University in Saint Paul, Minn.
In addition, Drake University ranked in the top schools in the Intercollegiate Writing Competition for accumulated student points in the first competition of the school year.
"The Hearst competition is one of the foremost competitions in the country, so to be one of the top schools, in there with the University of Missouri and Northwestern University — given Drake's size — is a testament to our program and the quality of students we're able to attract here," said Angela Renkoski, assistant professor of journalism.
This year, there were 128 students from 72 universities and colleges who participated in the 2006-07 academic year of the competition, in which 108 undergraduate journalism programs are eligible for participation.
The program consists of six monthly writing, three photojournalism, four broadcast news competitions and one multimedia competition, which are judged by industry professionals.
Judges for the writing competition this year were:

• Stephen Buckley, managing editor, The St. Petersburg Times

• Arthur S. Brisbane, former senior vice president, Knight Ridder Inc.

• Jeff Cohen, executive vice president and editor, Houston Chronicle
The program awards more than $500,000 in grants and scholarships each year, is funded by the William Randolph Hearst Foundation and conducted under the auspices of accredited schools of the Association of Schools of Journalism and Mass Communication.
For more information on the Hearst Award Program, visit the Web site.