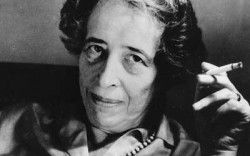 Hannah Arendt's political views will be the focus of Professor McAlister's presentation.
CONTACT: Joseph Schneider,

515-271-2158,

joseph.schneider@drake.edu
The fall season of the Drake Humanities Center Colloquium Series will conclude Friday, Nov. 30, with a presentation by Joan Faber McAlister, assistant professor of rhetoric, on "Hannah Arendt's Concept of Natality as Political Agency." The presentation, which is free and open to the public, will start at 3:30 p.m. in the Honors Lounge of Medbury Hall, 2730 Forest Ave.
McAlister teaches Public Speaking, Rhetorical Criticism and a variety of special topics courses addressing her research interests, which include visual and material rhetoric, critical theory, the performance of class, race, gender and sexuality in daily life; and the aesthetics and politics of social space.
This colloquium introduces her work on pleasure in public life and natality (the human capacity to be born and to begin anew) as found in the political philosophy of Hannah Arendt, an American historian who was born in Germany in 1906 and died in 1975.
During a time when political leaders are calling on citizens to make sacrifices to support the "War on Terror," Arendt's definition of civic virtue as a promise to act only in accordance with one's own pleasure provides a means to resist some of the demands of nationalism.
Although the political utility of Arendt's work has recently been explored by feminist theorists, McAlister argues that the unfortunate tendency to dismiss Arendt's distinction between private and public as incompatible with feminist political aims. She highlights some of the benefits that an Arendtian vision of such a boundary can provide.
For more information about the Colloquium Series and the Humanities Center, contact Joseph Schneider, director of the center, at 515-271-2158 or joseph.schneider@drake.edu.