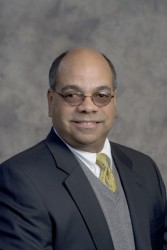 Hunter R. Clark
Drake law professor Hunter R. Clark recently published an article about how the annual rankings of the nation's law schools by U.S. News & World Report magazine affect American legal education.
The article, which appears in the September-October issue of Judicature magazine, describes U.S. News as the "dominant ranker" of law schools.
As the U.S. News rankings grew in influence and importance, law schools face increased pressure to comport their policies and practices with what it is the rankings measure, Clark notes.
"Yet the rankings often do not measure what it is that makes a law school good," Clark writes. "In fact, when a school is under pressure to improve its ranking, it may divert resources away from programs that matter, or minimize beneficial aspects of its pedagogy or approach to legal education, in order to satisfy criteria that overlook or discount significant indicators of success."
Clark cites another Drake law professor, Jerry Anderson, who has written, "I wish the U.S. News survey reflected the quality of teaching. I wish it reflected moot court honors and the excellence of students' law review notes. I wish it reflected how good a law school is, for the legal profession and the justice system, rather than how good someone who has never been there thinks it is."
The few law school deans who support the U.S. News rankings "praise them for making more information available to consumers and for creating accountability," Clark writes.
Yet there are far more critics than supporters among law school deans and faculty. Clark delves into their primary criticisms of the rankings, which are that:
They create the impression that differences between law schools are more significant than in reality they are.
They lead some law schools to engage in gaming — the deliberate manipulation of survey data.
They encourage law schools to produce and mail "law porn" — glitzy and expensive promotional materials — to academicians across the country in an attempt to improve their peer assessments.
They undermine law schools' efforts to promote racial diversity because of the heavy emphasis placed on the LSAT, one of many standardized entry examinations on which blacks and other minorities tend not to score as well as their white counterparts.
"Concerns about diversity spawned by the rankings' reliance on LSAT scores are worrisome," Clark writes. "For if there is value in having the legal profession reflect the nation's demographics, any detrimental impact the rankings may have on minority admissions should be addressed immediately."
Despite these numerous and serious criticisms, the U.S. News rankings "are likely here to stay," Clark predicts. That's because law schools are unlikely to band together to oppose the rankings or to organize a widespread boycott of the annual rankings survey.
In fact, he points out, a boycott would probably result in U.S. News' estimating the information a boycotting school refused to provide, which it has done in the past. Then the magazine would use the estimate to calculate a ranking for the school that might well be lower than it would otherwise have been.
"Based on the current perception of the rankings' influence," Clark concludes, "the risk involved would be too great for the boycotting school."