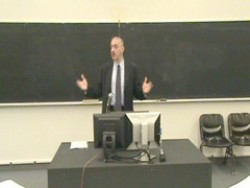 Samuel Issacharoff
New York University Law School Professor Samuel Issacharoff presented a lecture on "Democracy at War" on Nov. 8 as part of the Drake University Constitutional Law Center's Distinguished Lecture Series.
In his lecture, Issacharoff explained that historians generally believe that democracies do better at war than more autocratic governments. He offered supporting theories, such as the greater participatory and transparent nature of democratic governments. He said this gives them more legitimacy in the eyes of their people, and it allows democracies to admit mistakes and change course when necessary.
Issacharoff argued that the Bush Administration's war on terror has been handled in such a unilateral and secretive manner, however, that it has prevented our democratic strengths from surfacing and created a backlash both here and abroad.
In contrast, he pointed out that Abraham Lincoln was generally open about suspending habeas corpus during the Civil War and Lincoln eventually went to Congress for support. The Bush Administration, however, has engaged in warrantless wiretapping and other secret actions that he said have undermined public trust.
Issacharoff is a 1983 graduate of the Yale Law School. After clerking, he spent the early part of his career as a voting rights lawyer. He then began his teaching career at the University of Texas in 1989, where he held the Joseph D. Jamail centennial chair in law. In 1999, he moved to Columbia Law School, where he was the Harold R. Medina professor of procedural jurisprudence. His 70-plus published articles appear in every leading law review, as well as in leading journals in other fields. He is the Bonnie and Richard Reiss Professor of Constitutional Law at NYU School of Law.
He is one of the pioneers in the law of the political process, where his "Law of Democracy" casebook (co-authored with Stanford's Pam Karlan and NYU's Rick Pildes) and dozens of articles have helped create a vibrant new area of constitutional law. For more information on the Distinguished Lecture Series, call 515-271-2988.