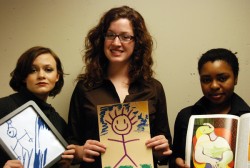 From left: Marnie Strate, Emily Draffen and Makha Mthembu star in Drake's production of "Art," which opens Dec. 6.
CONTACT: Lisa Lacher, 515-271-3119, lisa.lacher@drake.edu
On Thursday, Dec. 6, Drake University Theatre will open its production of "Art," Yasmina Reza's Tony Award-winning play about how three lives are affected by the purchase of an innocuous painting.
Jasmine Teo, a senior theatre major from Singapore, directs the production, which features first-year students Emily Draffen of Reinbeck, Iowa, and Makha Mthembu of South Africa and senior Marnie Strate of Windsor Heights.
"Art" also showcases the work of student designers, including sophomore Nick Toussaint of Ankeny (scenic design) and sophomore Caitlin Hall of Prairie Village, Kan., (lighting design).
"Art" is the story of three friends, Marc, Yvan and Serge — adapted for this production as Sofie, Samantha and Vianne — who appear to be arguing over the purchase of an expensive modern art piece.
As the story unfolds, friendships are called into question as the debate over the artwork stirs up deeply held opinions and resentments, and the characters are forced to confront their true feelings about one another.
"I think Yasmina Reza has written a darkly humorous and, ultimately, poignant piece of work about friendship, and the difficulty of distinguishing ourselves from the ones we cherish the most," Teo said.
Performances will start at 8 p.m. Dec. 6, 7 and 8 and at 2 p.m. Dec. 8 and 9 in Studio 55 of the Harmon Fine Arts Center, 25th Street and Carpenter Avenue. This play contains adult language.
Tickets, which are free with reservations, are available at the Drake Fine Arts Center Box Office. Reservations may be made in person or by calling 515-271-3841.