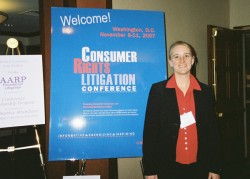 Anna K. Ryon smiles after completing her presentation.
Anna K. Ryon, a third-year law student and Opperman Scholar from Des Moines, recently gave an hour-long presentation at a national conference on adjustable-rate and exotic mortgages and how they have contributed to the subprime lending crisis.
Ryon spoke to hundreds of attorneys at the National Consumer Law Center's 16th Annual Consumer Rights Litigation Conference, which was attended by approximately 800 attorneys Nov. 8-11 in Washington, D.C.
"It was an introductory-level presentation for attorneys for whom it was a new topic," Ryon said. "I explained how different exotic mortgages worked, compared the costs of different types of mortgages, gave some statistics about who has gotten these mortgages, and gave a brief explanation of how these mortgages are tied to the current mortgage crisis."
Ryon's presentation was based on work that she did in professor Cathy Lesser Mansfield's Consumer Protection class last spring. In fact, Mansfield suggested the National Consumer Law Center invite Ryon to present at the conference because exotic mortgages are becoming a huge problem and not all consumer lawyers even understand what they are.
"I'm told that they had never had a student presenter before, so this was quite an honor," said Ryon, who holds a bachelor's degree in French from Grinnell College and a master's degree in French literature from the University of Virginia.
Mansfield, who attended the conference with Ryon, said she was proud of her student. "Anna did a great job," Mansfield added. "The room was packed, and she handled herself like a pro. I was on the podium with her, but I barely had to say a word. She did the whole thing on her own and with great competence and confidence."
In addition to teaching a variety of consumer law courses, Mansfield has served on the Board of Directors of the National Association of Consumer Advocates and has worked as a consultant for the National Consumer Law Center.
She has studied subprime lending for years and has been advocating reforms in the industry since 2000, when she testified before the Department of Housing and Urban Development and Treasury Departments' Joint Task Force on Predatory Mortgage Lending and to the House Banking Committee. That was the same year that she published an article in the South Carolina Law Review titled "The Road to Subprime 'HEL' Was Paved With Good Congressional Intentions: Usury Deregulation and the Subprime Home Equity Market."
Mansfield has been interviewed in recent months by numerous national news media, including National Public Radio and the BBC about the growing crisis in the subprime mortgage industry. She also serves as chair of the Board of Directors of Americans for Fairness in Lending, a nonprofit group working to raise awareness of abusive credit and lending practices and calling for re-regulation of the industry.