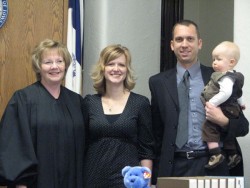 Judge Donna Paulson and Andy, Tara and Miles Goodman.
After celebrating its fifth year anniversary, the Joan and Lyle Middleton Center for Children's Rights isn't ready to step out of its spotlight of achievement.
Already this fall semester, faculty, staff and students set the bar high and have given Drake, the Law School and the Center more reasons to celebrate.
Bringing families together
One reason is Adoption Saturday, which the Middleton Center teamed up with the Polk County Model Court and Iowa KidsNet to plan and conduct. Adoption Saturday is part of a nationwide effort to finalize adoptions of children from foster care during National Adoption Month. Andy and Tara Goodman provide a good example.
Despite delays and processing complications, Andy and Tara waited another 10 days for Adoption Saturday to finalize the adoption of their first son, 11-month-old Miles.
"We thought it might be a great finish to finalize on Adoption Saturday and to take part in the festivities," Andy Goodman said. "When we finally got everything completed our date was set for Nov. 7, but we thought if we waited three extra months past our 180 days, we could wait another 10 days to do Adoption Saturday."
"We thought Miles was a neat name to choose because it symbolizes the journey we've been through," he added.
After friend referrals, the Goodmans worked with Bethany Christian Services, which connected with an adoption agency out of Minnesota that found a birth mother looking for adoptive parents. The couple sent their profile and met with the mother, who elected Andy and Tara to be the adoptive parents last November.
A year later, this Nov. 17 marked the culmination of the Goodman's adoption, National Adoption Month and the seventh annual Adoption Saturday. As 56 children united with their families, they gathered at the Polk County Courthouse in Des Moines with other families, community members and friends to celebrate the successful adoptions.
"Adoption Saturday is a culmination of months of work by the adoptive parents, including home studies and classes," said Jerry Foxhoven, director of the Joan and Lyle Middleton Center for Children's Rights and assistant professor at Drake. "It is a celebration that the details have been completed and the joy is ready to begin."
There was an informational fair on the first floor of the courthouse, including professionals providing information about local and international adoption agencies and the need for foster parents. The second floor of the courthouse hosted private adoption proceedings.
Associate Juvenile Judge Constance Cohen, LW'87, GR'77, ED'72, who started Adoption Saturday in Des Moines, Chief Judge Arthur E. Gamble and former foster child Gabe Meintz headlined as keynote speakers at the half-hour public program.
To date, more than 12,000 children have found permanent families through National Adoption Day. It is made by possible by approximately 40 volunteers, including judges and other courthouse personnel, members of the Polk County Sheriff's Department and law students from Drake and the University of Iowa and undergraduates from Simpson College.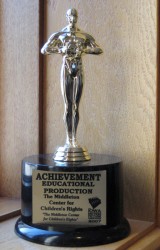 A reel commitment to children's rights
To celebrate the impressive record and array of contributions to clients, the courts, the community and the state of Iowa that The Joan and Lyle Middleton Center for Children's Rights compiled in its first five years, Executive Director of Clinical Programs Suzanne Levitt commissioned a video to show the center's commitment to children's rights through the work of faculty, staff and students.
The video, produced by Kent Newman, president of Full Spectrum Productions, recently was awarded the 2007 Iowa Motion Picture Association's Award for Achievement in Educational Production.
For 2007, there were 160 award entries, with 10-12 entries in more than 30 categories. The Middleton Center was one of the top five entries in its category to receive the Award of Excellence.
"The Middleton Center is honored to receive the Iowa version of an Academy Award for the video describing the creation and operation of the center," said Jerry Foxhoven, director of the Center.  "The award provides additional prestige to the Center, which is widely recognized in Iowa and across the country for its effective representation and advocacy for children."
"As the director of the production, my goal was to present an overview of the Middleton Center for Children's Rights program areas, and let key stakeholders in the juvenile justice field tell their story," Newman said.
The Center was established at the Drake Legal Clinic in 2001 with a $1 million gift from Drake alumni Joan and Lyle Middleton. Partnering with the Drake School of Education, the Middleton Center advances children's rights through the legal process, training programs, community education, public information and an electronic newsletter that is circulated in 37 states and legislative advocacy. Drake law students actively participate in the interdisciplinary programs.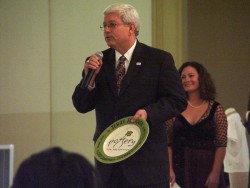 Jerry Foxhoven receives "Champion for Children" Award from Prevent Child Abuse Iowa.
Making a brighter future possible
Prevent Child Abuse Iowa recently awarded Middleton Center Director Jerry Foxhoven the "Champion for Children" Award for his outstanding commitment to child advocacy.
The award, a custom-created and one-of-a-kind "Champion for Children" pottery piece designed by Becky Lau Ekstrand, art director for Kitchen and Bath Magazine at Meredith Corp., was presented at the annual "Pottery for Prevention" fundraising event, benefiting Prevent Child Abuse Iowa.
The "Champion for Children" award honors an individual for his or her contribution and dedication to protecting children. Award winners may include anyone committed to protecting children and preventing child abuse and neglect and who promotes positive outcomes for children and families in Iowa.
"As director of the Child Advocacy Board and now in his present position, Jerry has worked forcefully to ensure that abused children receive the support they need to recover and lead productive lives," said Steve Scott, executive director of Prevent Child Abuse Iowa. "He has been one of Prevent Child Abuse Iowa's most loyal partners in advocating for making Iowa a place where all families are strong and children safe."
Other roles and contributions Foxhoven is known for include:
•    Serving on the oversight committee of the Iowa Juvenile Justice Initiative (Iowa's Court Improvement Project)
•    Serving as chair of the Iowa Child Protection Council, the Iowa Citizen Review Panel
•    Sitting on the National Advisory Board of "Fostering Families Today" magazine
•    Directing the Middleton Center for Children's Rights since 2006 and
•    Teaching as a clinical professor at Drake
•    Serving as director of a state and national advocacy center on children's rights issues
•    Instructing and supervising senior law students handling juvenile cases
•    Helping law students write and lobby for legislation
•    Receiving the "Angel in Adoption" award from the Congressional Coalition on Adoption Institute in Washington, D.C.