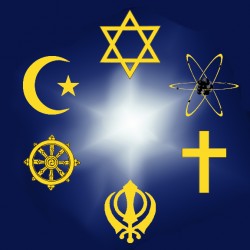 CONTACT: Tim Knepper, 515-271-2167,
tim.knepper@drake.edu
Scholars and religious leaders will gather at Drake University on Wednesday, Nov. 28, for a panel discussion of how the world's religions and philosophies define ultimate reality. The discussion, which is free and open to the public, will start at 7:30 p.m. in Bulldog Theater in Olmsted Center, 2875 University Ave.
The discussion will focus on the following questions:

Are all religions and philosophies "paths" to the same destination?
Is it possible or desirable to compare the world's ultimate realities?
The panelists will be:

Kanwarpal Dhugga, president of the Iowa Sikh Temple
Ibrahim Dremali, former imam of the Islamic Center of Des Moines
Muir Eaton, Drake assistant professor of biology
Jennifer Harvey, Drake assistant professor of religion
Zuiko Redding, resident teacher at the Cedar Rapids Zen Center
Allen Scult, Drake professor of philosophy
Drake's Center for Global Citizenship and Center for the Humanities are sponsoring the event. For more information, contact Tim Knepper, Drake assistant professor of philosophy, at 515-271-2167 or tim.knepper@drake.edu.